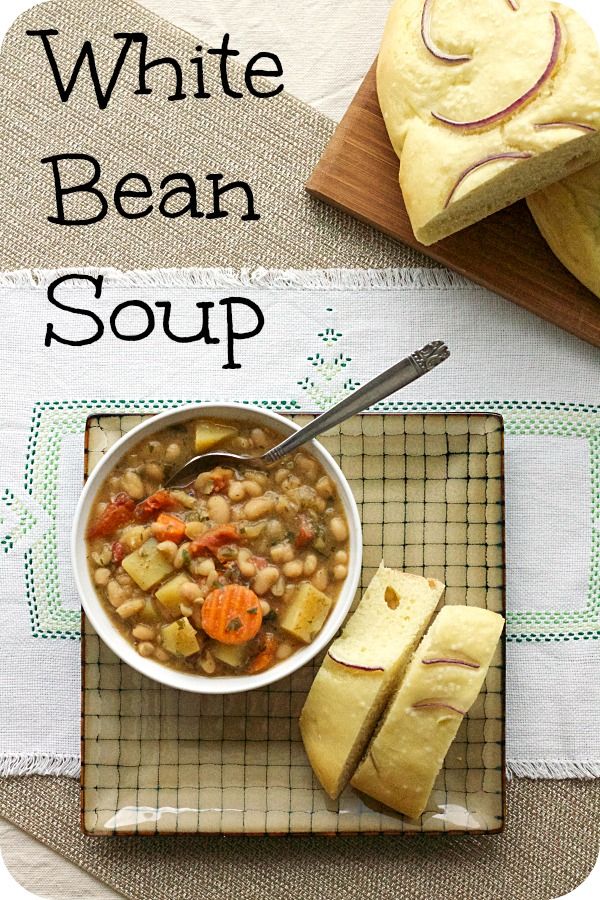 Last Saturday, I made white bean soup and focaccia for supper. Clarissa said, "I don't like that food." Then she asked, "what are we having for dinner?" Then she sat at the table and scarfed down a bowl of the soup and two or three pieces of focaccia.
Any white beans will work in this recipe: great northern, navy, or cannellini will all make for a creamy, flavorful, nutritious bowl of soup. I kept this recipe simple: beans, carrots, potatoes, and sun-dried tomatoes (and of course garlic and onions). It's a versatile meal. You can wilt in your favorite greens, at the end of the cooking time. Corn or peas would add additional flavor and texture. Or maybe add a bit of vegan bacon and a sprinkle of paprika, for a smoky element. Think of this as the base recipe, and improvise, with what you've got.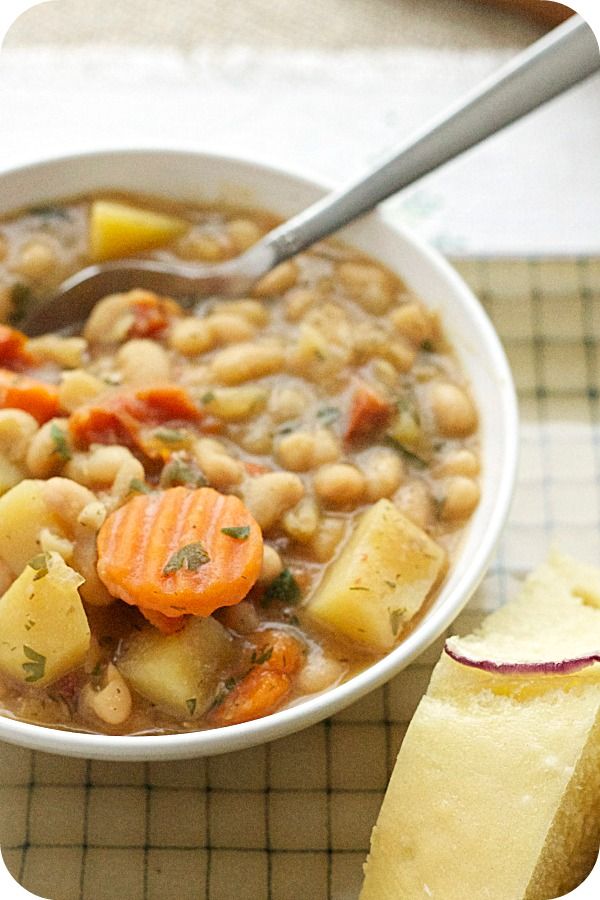 Of course, don't forget to make some focaccia to serve on the side. You can make it in about an hour, and have warm, homemade bread to serve with your savory and satisfying soup supper.
White Bean Soup
2013-09-10 15:41:24
Ingredients
1 pound dry navy beans, sorted and rinsed
2 quarts veggie broth
1 medium onion, diced
4 cloves of garlic, peeled and smashed
2 tsp salt
1/4 tsp pepper
2 medium potatoes, diced
1 pound frozen, sliced carrots
1 cup chopped sun-dried tomatoes*
1-2 tsp dried dill
3-4 tbsp fresh, minced parsley
Instructions
1. Put the beans, veggie broth, onion, garlic, salt and pepper in a large soup pot and place over low-medium heat.
2. Allow to simmer for 3-4 hours, or longer, adding additional water as necessary.
3. When the beans are soft, but not falling apart, add the potato and continue to simmer until the potatoes are tender.
4. Add the carrots, tomatoes and dill. Keep over heat until the carrots are heated through. Stir in the parsley, season with additional salt and pepper, if needed, and serve.
Notes
*Pro Tip: Look for dry sun-dried tomatoes, rather than the ones packed in oil. They are much less expensive. You can use the liquid from rehydrating the tomatoes in place of additional water for cooking the beans. I was also rehydrating dried mushrooms while I was making the soup, so I used that liquid in the soup, as well.
http://www.veganmotherhubbard.net/
Find more recipes and menu ideas
here
.