Registration has started for 4 year old kindergarten, in our school district. It's January, and I'm trying to make a decision about what will be best for my kids, eight months from now. The program is three hours a day, four days a week. I think Veronica and Clarissa would benefit from spending time with other kids, and learning to take instruction from adults who aren't family. On the other hand, I don't like the idea of giving up their unstructured, care-free time.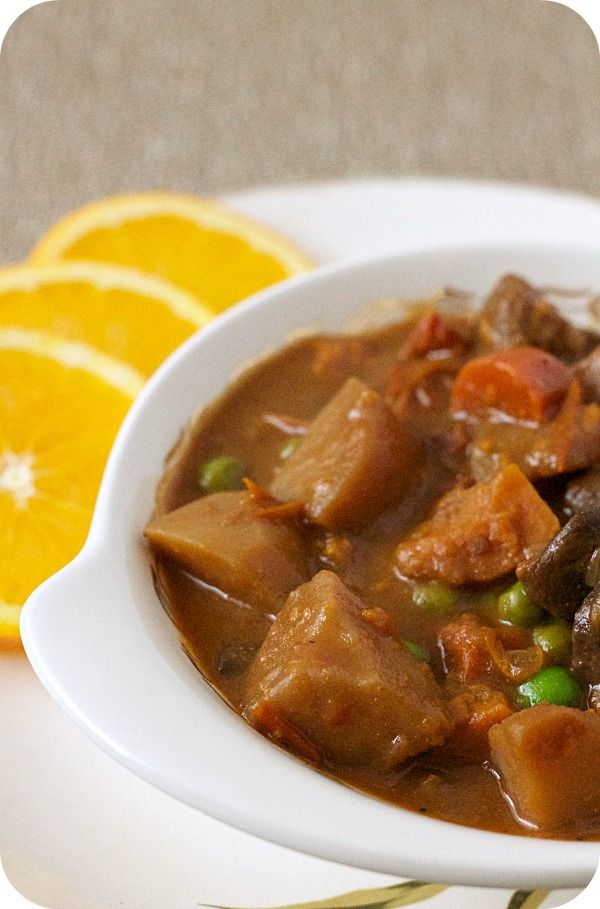 I'm pretty sure that the difficulty I'm having with this decision, is because I'm in denial that my itty-bitty girls are growing up so quickly. I'm going to wallow in my denial, and weigh the benefits of 4K versus the freedom of being a little kid, with no schedule, no curriculum to follow, and no pressure. As I wallow, I'm going to find comfort in a bowl of this warm, savory stew.
Beef-less Stew
2014-01-13 15:54:18
Ingredients
4 tbsp olive oil, divided
1 cup diced red or yellow onion
3 cups peeled, bite sized pieces of carrot*
2 cups peeled, bite sized pieces of potato*
2 cups peeled, bite sized pieces of sweet potato*
1 cup diced tomato (canned or reconstituted sun-dried)
1 pound white or cremini mushrooms, cleaned and quartered
2 cups vegan "beef" (I use Gardein Beefless Tips)
2 tbsp tomato paste
1 cup red wine (dry or semi-dry is fine, just use one you like)
5 cups vegetable broth, divided
1/4 cup nutritional yeast
1 tbsp Bragg's liquid aminos or soy sauce
2 tsp dry mustard
salt and pepper to taste
3 tbsp all purpose flour
1 cup frozen green peas
Instructions
1. Warm 2 tablespoons of oil in a large skillet, over medium heat. Add the onions and a pinch of salt. Saute until golden brown.
2. While the onions cook, combine the carrot, potato, sweet potato, and tomato in a slow cooker, set to high heat. Cover. **
3. When the onions are cooked, transfer them to the slow cooker.
4. Add the mushrooms and a pinch of salt to the skillet. Saute the mushrooms, until they have released their moisture and turned golden brown. Transfer to the slow cooker.
5. Add the remaining 2 tablespoons of oil to the skillet, and cook the "beef," according to the package instructions. You want there to be some brown bits in the pan, when they are done cooking. Transfer to a dish and refrigerate.
6. Add the tomato paste to the pan, and stir, until it smells fragrant. It may begin to stick to the bottom of the pan. That's okay.
7. Deglaze the pan with the wine, then stir in 2 cups of the vegetable broth, the nutritional yeast, Bragg's, and mustard. Season with salt and pepper to taste.
8. Transfer about 1/2-3/4 cup of the liquid to a small bowl. Whisk in the flour, until there are no lumps. When the mixture is completely smooth, whisk it back into the liquid in the skillet. Whisk vigorously, to break up any lumps that might form.
9. Stir the sauce and remaining 3 cups of broth into the vegetables in the slow cooker. Cook on high for about 5 hours or on low for about 8 hours. The stew is done when the vegetables are tender.
10. When the vegetables are cooked, stir in the beef (cut into bite sized pieces, first, if necessary) and the peas. When warmed through, serve with your favorite bread.
Notes
*It's okay if these vegetables are not cut into evenly sized pieces. If some pieces are smaller, and others are larger, the smaller pieces will cook more. They will break down, and almost become part of the sauce. The larger pieces will retain their integrity, and become delicious, individual bites of stew, when they are done cooking.
**If you don't have a slow cooker, you can make this stew in a large dutch oven, in a 300 degree oven.
http://www.veganmotherhubbard.net/