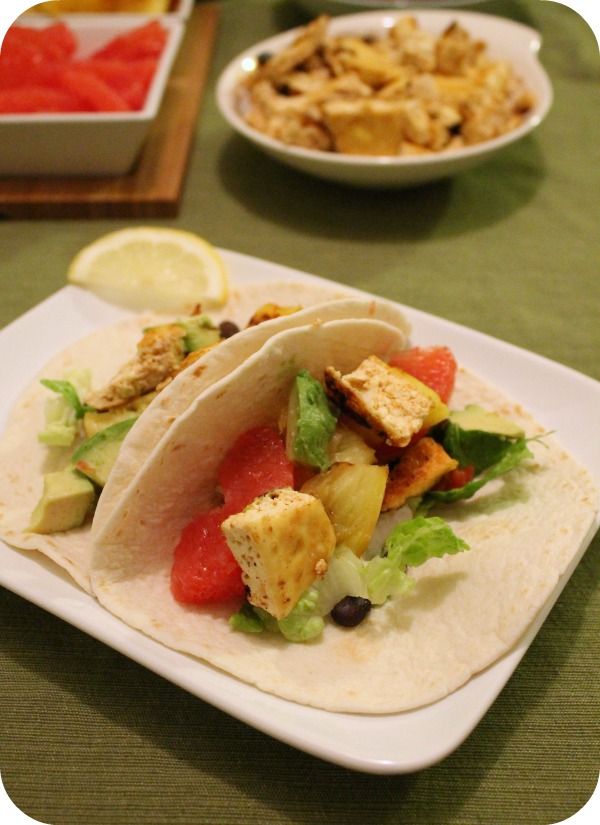 You know what I love? Junky tacos. You know–Boca crumbles with Ortega taco seasoning, refried beans out of a can, shredded iceberg lettuce, and some diced tomato. Quick to make and nothing fancy.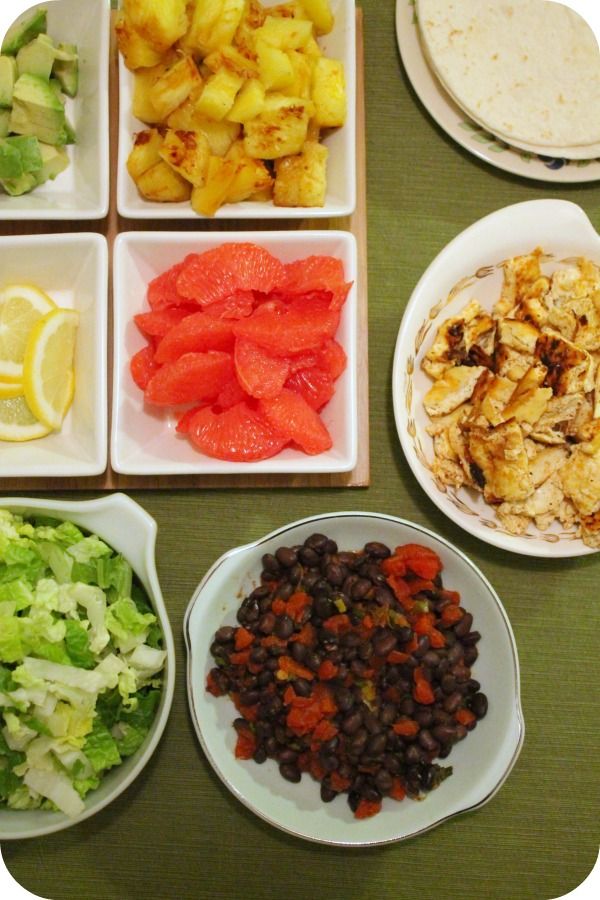 I also love all the extras–black beans, homemade guacamole and/or salsa, maybe some roasted corn or homemade Spanish rice.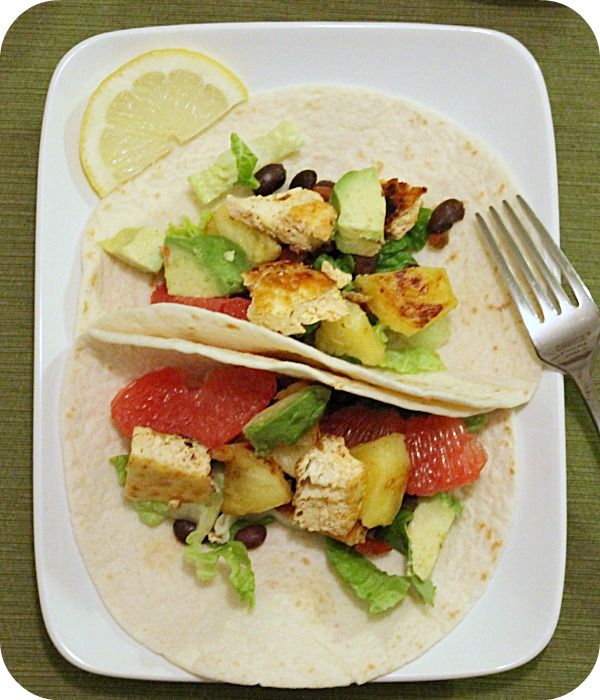 On Saturday we went to Milwaukee and came home at supper time. In 45 minutes, I pulled together this lighter take on tacos. They had lightly seasoned tofu, black beans and tomatoes that were sautéd with green onions, grilled pineapple, and some fresh produces straight from the fridge.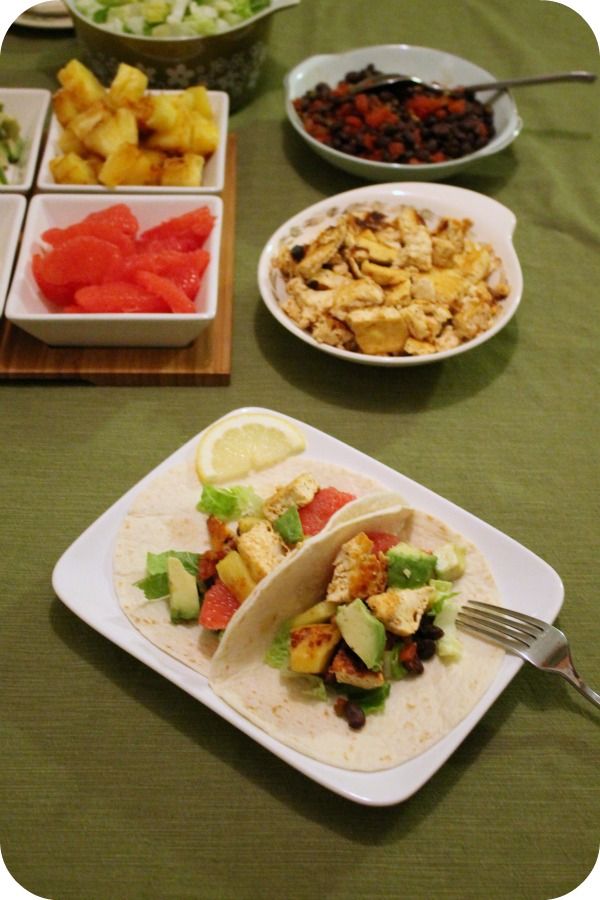 A couple "tricks" that made this meal quick to prepare:
canned beans and tomatoes
fresh pineapple that I bought cleaned and cut into spears, so it could go right on the grill
I had grapefruit, that was already cut into supremes, in the fridge
You can definitely make the components of these tacos ahead of time. Just before serving, warm the beans and tofu, and cut up the lettuce and avocado. This is an excellent weekday supper.
Fruity Vegan Tacos
2014-01-19 05:25:01
Garlic Lime Tofu
1 pound firm or extra firm tofu, drained
1 tbsp fresh lime juice
1 tsp kosher salt + more for cooking the tofu
1/2 tsp grated garlic
1/2 tsp chili powder
Seasoned Black Beans and Tomatoes
2 tsp olive oil
2 green onions, thinly sliced
1-16 ounce can of black beans, drained and rinsed
1 cup diced tomatoes (fresh or canned)
1/2 tsp chili powder
1/2 tsp ground cumin
salt and lime juice to taste
Fixin's
1 fresh pineapple, cored and cut into spears or rings
1 head of romaine lettuce, shredded or cut into bite-sized pieces
1 avocado, peeled and diced
1-2 grapefruits, cut into supremes
10-12 small tortillas
Prepare the Tofu
1. Cut the tofu into 3 3/8-1/2 inch thick slabs. Salt generously on both sides of each piece.
2. Cook on a non-stick griddle, over medium-high heat.
3. Cook until the tofu is golden brown on both sides. Then roughly chop into bite-sized pieces.
4. In a medium sized bowl, stir the lime juice, teaspoon of salt, garlic, and chili powder. Toss the tofu in the seasoning, to coat.
Prepare the Beans and Tomatoes
1. In a medium-sized skillet, saute the onions in the olive oil, over medium heat.
2. When the onions are softened, add the beans, tomatoes, chili powder, and cumin.
3. Cook until hot, season with salt and lime juice to taste, then remove from the heat.
Grill the Pineapple
1. On a non-stick griddle, or well-oiled grill pan, cook the pineapple over medium-high heat.
2. Turn often, to prevent burning. Cook until the pineapple is golden brown on all sides.
3. Cut the pineapple into bite-sized pieces.
Assemble the Tacos
1. Place a bit of each of the ingredients into a tortilla.
2. Fold over.
3. Eat and enjoy.
http://www.veganmotherhubbard.net/