This is a recipe that I originally posted two years ago. Back then I knew nothing about food photography. This is the picture I published with the recipe:
You totally want to make that, right? I know you don't. But I want you to make this stew. It's delicious. So I made it again and took new pictures.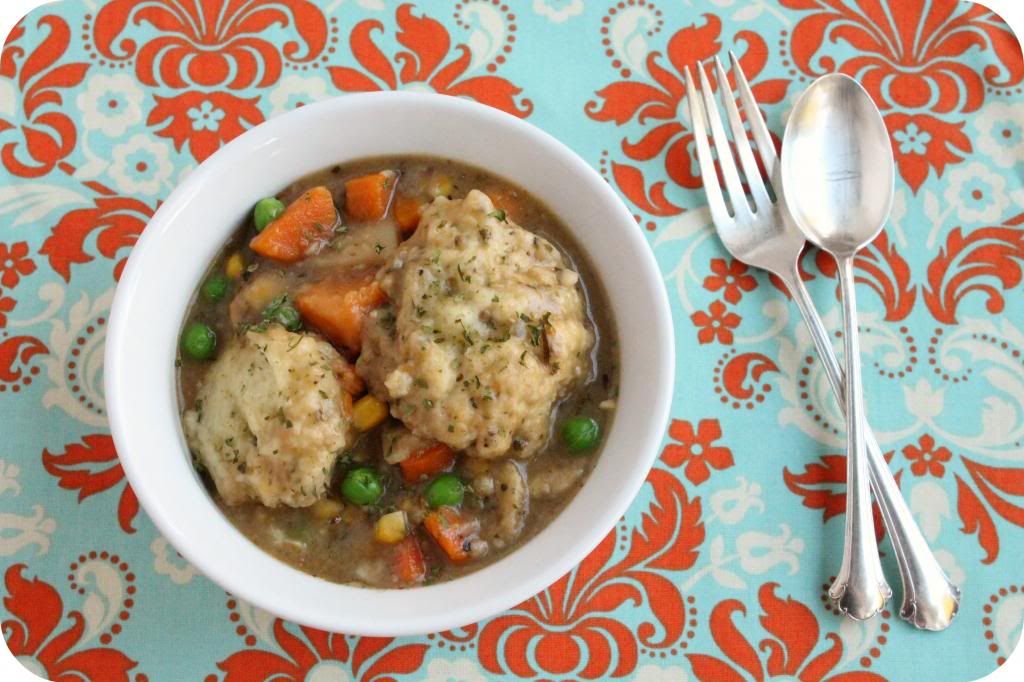 Believe it or not, that's the same stew. What a difference proper lighting, white balance, and staging can make, huh?
You get new photos. My family got a great supper. I think it's a win-win. And if you get in the kitchen, and make some for yourself, we'll have a win-win-win. What are you waiting for?
Veggie Dumpling Stew
2013-09-10 16:07:25
Stew
2 tbsp olive oil
1 cup onion, chopped
1 1/2 cup carrot, diced
4 cloves garlic, minced
1 medium sweet potato, peeled and diced
2-3 medium potatoes, scrubbed and diced
1 cup frozen corn niblets
4 cups water
2 tsp vegetable stock concentrate/soup base
1 tsp each of these dried herbs--rosemary, thyme, basil, sage, and oregano
1 tbsp dried parsley
5 teaspoons tamari
2 tbsp white flour
salt and pepper, to taste
1 cup frozen peas
Dumplings
1 cup white flour
1 1/2 tsp baking powder
1/2 tsp salt
2 tbsp dried parsley
1/2 cup unsweetened non-dairy milk (I used almond milk)
2 tbsp oil (I used olive oil)
Instructions
1. In a soup pot, saute the onions until they are starting to brown, then add the carrots and garlic, and saute another 5 minutes, or until the garlic is softened.
2. Add the potatoes, sweet potatoes, corn, water, soup base, herbs, and tamari. Simmer over medium heat, until the potatoes are softened.
3. In a separate bowl, combine the 2 tablespoons of flour and 1 cup of broth, taken from the pot.
4. Whisk until smooth; and add the flour/broth mixture back to the pot, stirring while adding.
5. For the dumplings, stir the dry ingredients together in a medium sized bowl.
6. Stir in the milk and oil. Combine with a fork until just moistened.
7. Drop the mixture by tablespoonful into the stew. Simmer for about 5 minutes.
8. Cover the pot and simmer for another 15 minutes. Do not lift the lid while the dumplings are cooking.
9. When the dumplings are done (they'll be firm, but still a little doughy), stir in the peas. Then season with additional salt and pepper to taste.
10. You can serve the stew right away, or transfer to an oven safe casserole dish and keep warm in the oven.
http://www.veganmotherhubbard.net/
Are you digging my recipes? Enjoying pictures and stories about my silly twins? Check the header to follow Vegan Mother Hubbard on your favorite social media. Thanks!