For part 1, go here.
Our last full day in the Rapid City area was a busy one. Steve had to work half the day, so Veronica, Clarissa and I had a few hours to ourselves for adventuring. It was windy and cold, so we bundled up, got some coffee, and made our way to the Dinosaur Park.
Did I mention it was cold and windy? There were 40+ mile per hour winds in the city. The dinosaur park is at the top of a hill. A high hill. The kind of hill that lets you see the entire city. It was even windier up there. My girls did not enjoy the wind and cold. There were tears. And a refusal to look at the camera, let alone smile.
I managed to grab a couple snapshots, before the girls got too upset. I'm glad I did. They may not have enjoyed being at the park, but Clarissa and Veronica love to look at these pictures. Dinosaurs are a big deal for my kids right now. Clarissa can easily identify eight or ten different dinos, by name. They ask to read dinosaur books all the time. So now, a month after a miserable visit to the park, they get excited when they see themselves with these old, fiberglass monsters.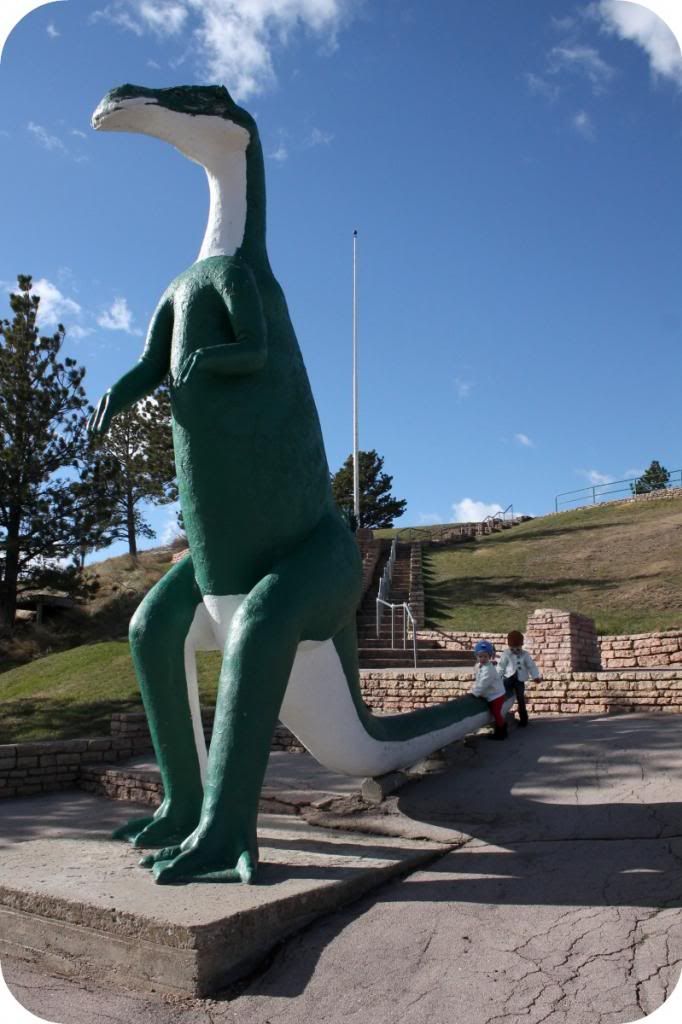 How can you go wrong with 80 year old, life-sized, cartoony dinosaur sculptures? I don't think you can.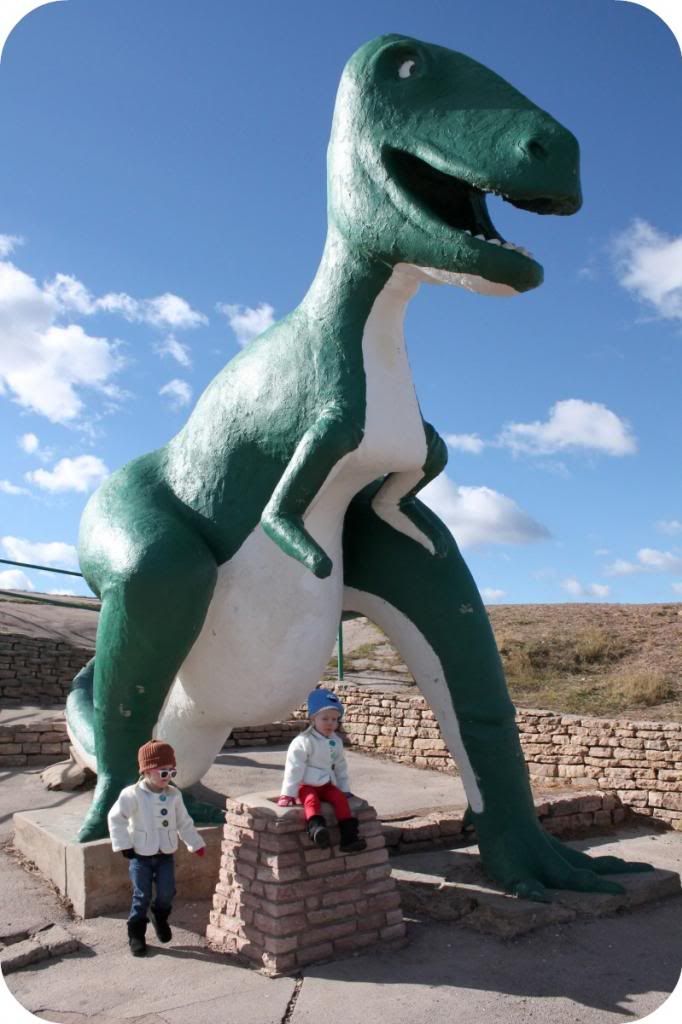 Back to the car we went. We picked up Steve from work, and made our way south to see Crazy Horse. It was way cooler than I expected.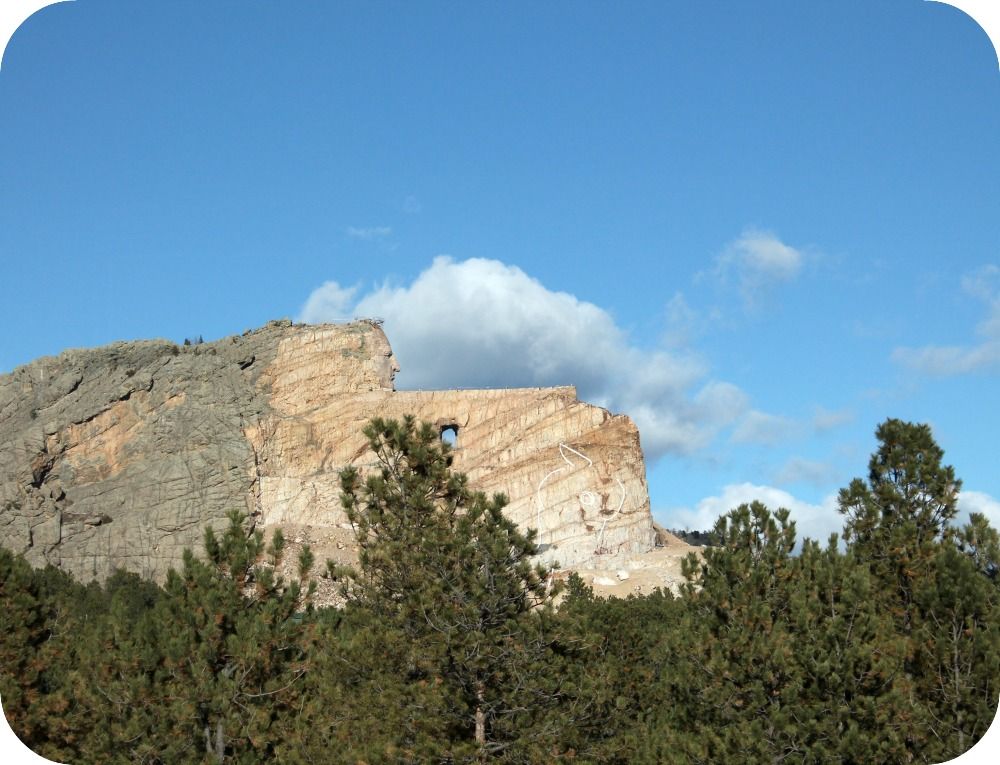 This was another attraction C and V weren't excited about. We got them a couple books about Crazy Horse (the man and the monument), from the gift shop. They ask to read the stories almost everyday. Just like with the dinosaurs, it seemed like a bust while we were there, but it sparked something in the gals. Now they talk about him all the time.
Saturday morning we said goodbye to uber-friendly Rapid City and started our trip home. We stopped at Wall Drug, because you have to.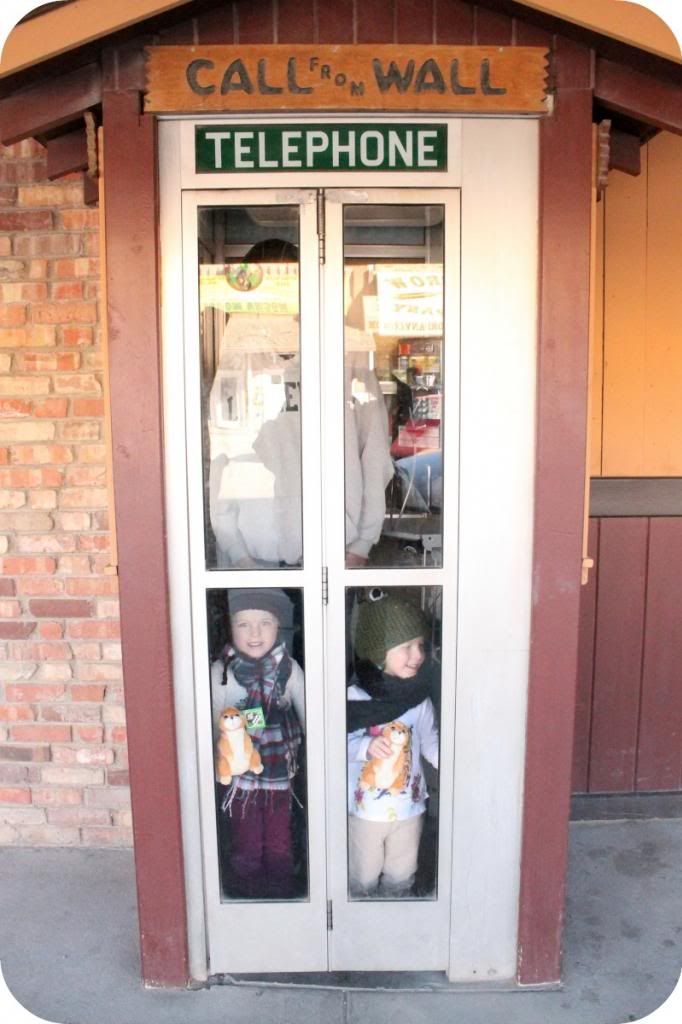 Wall Drug was just as creepy, weird, and amazing as I remembered. Clarissa and Veronica posed for all the requisite pictures.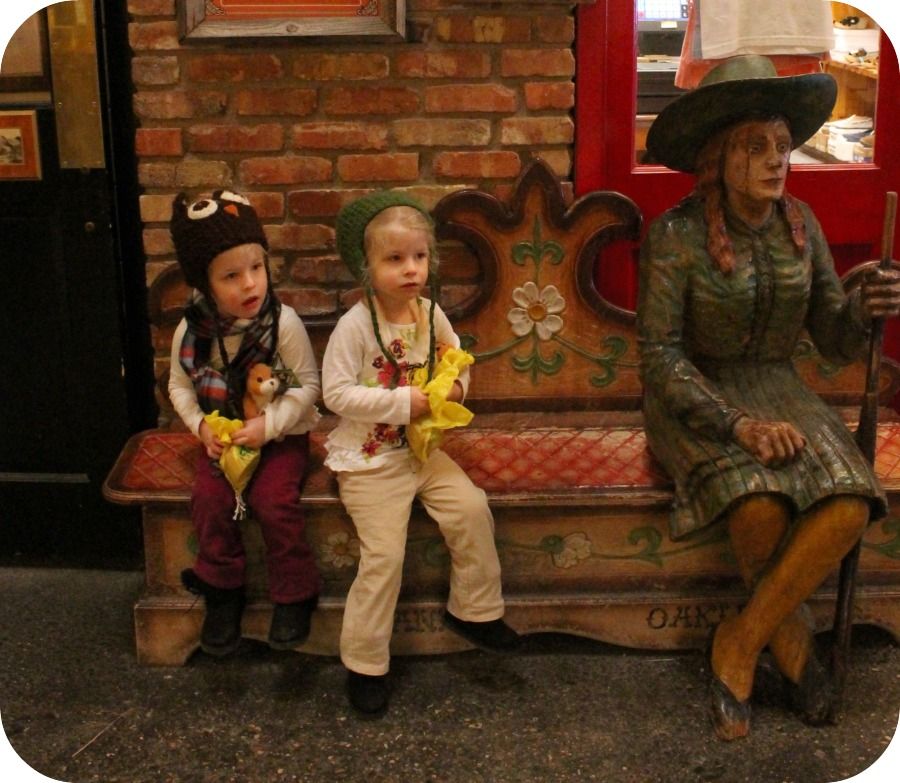 We ate french fries for lunch. We got a flattened penny. We looked at all the nutty stuff in the backyard.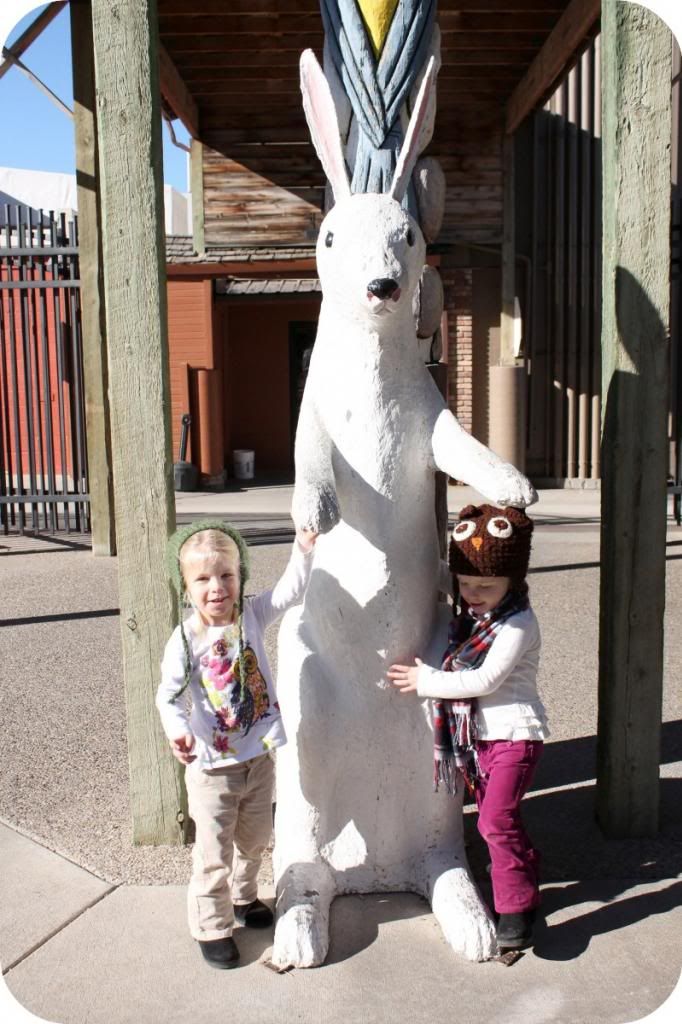 And like all proper tourists who visit Wall Drug, we climbed up on the giant jackelope. You'd have to be crazy not to!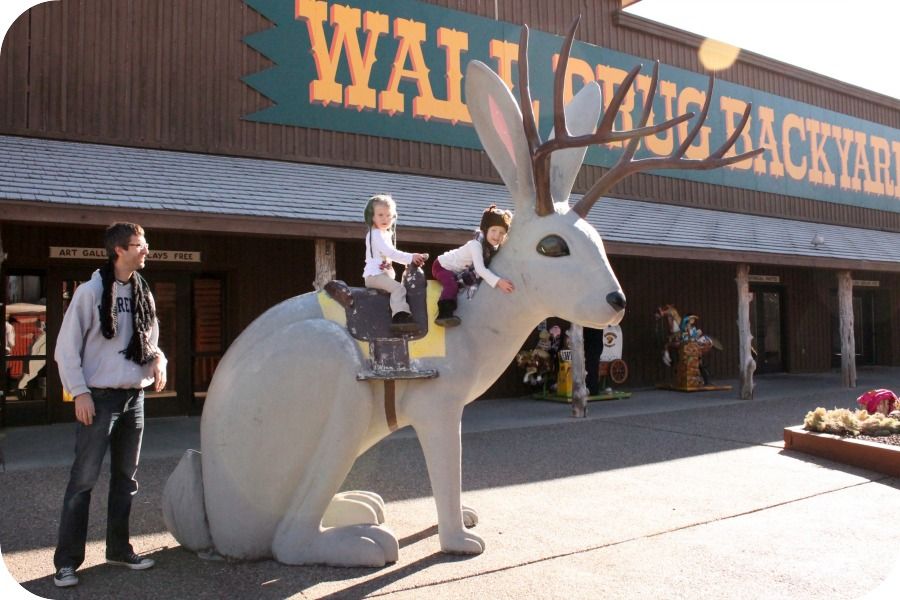 When the excitement of Wall faded, we continued eastward to Badlands National Park. I'd been there twice at dusk. Those visits were nice, but I don't think I really understood just how cool the Badlands are, until I saw the park in daylight. Steve used his extra long arms to take our picture at Hay Butte Overlook.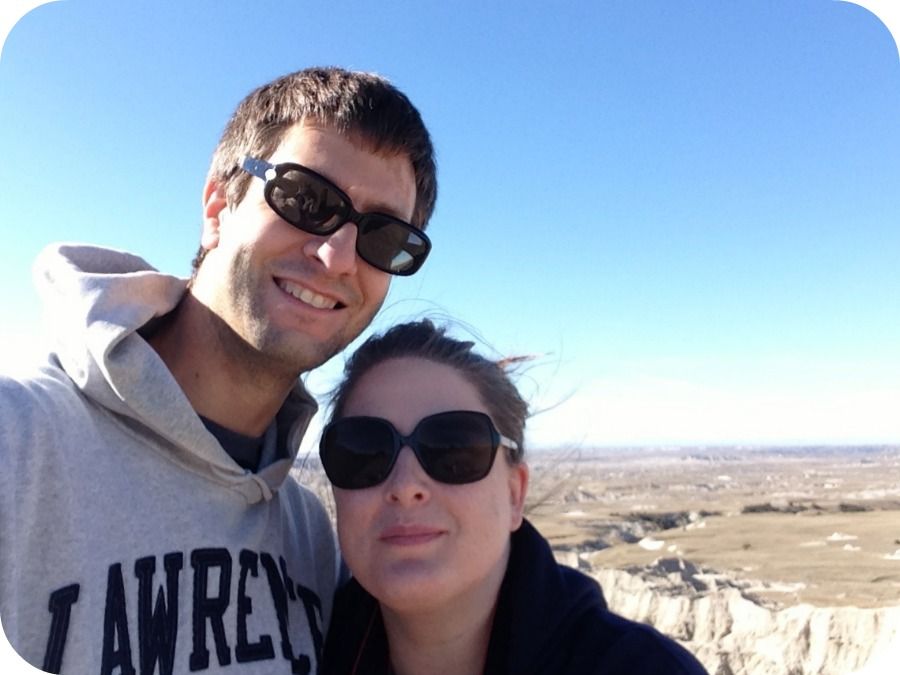 I thought we might stop once or twice, on our way through the park, but Steve stopped at all but two or three of the overlooks. I'm glad he did.
I think Steve was pointing out a couple of bison in the distance, but I could be wrong.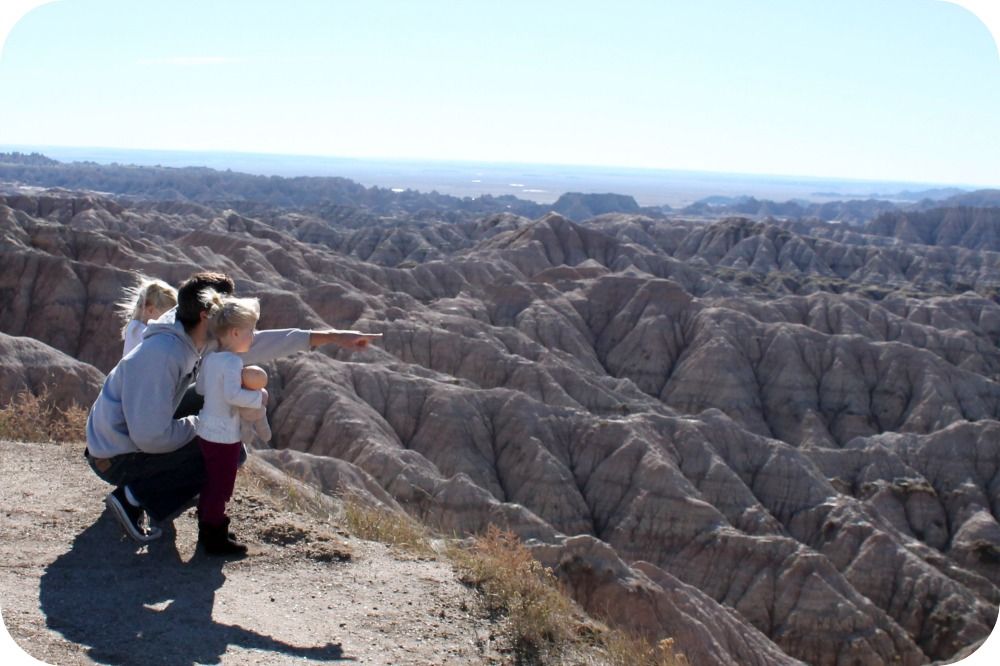 With a couple of kids who head straight to the prairie dogs, every time we visit the zoo, we couldn't pass up the chance to see them in the wild. We visited Prairie Dog Town. We got out of the car, and on either side of the road you could see hundreds of little mounds of dirt on ground. There were high pitched chirps in the otherwise silent park. We saw chubby, little prairie dogs pop up from their burrows and scurry across the grass to another hole, then disappear. It was like heaven for my kiddos.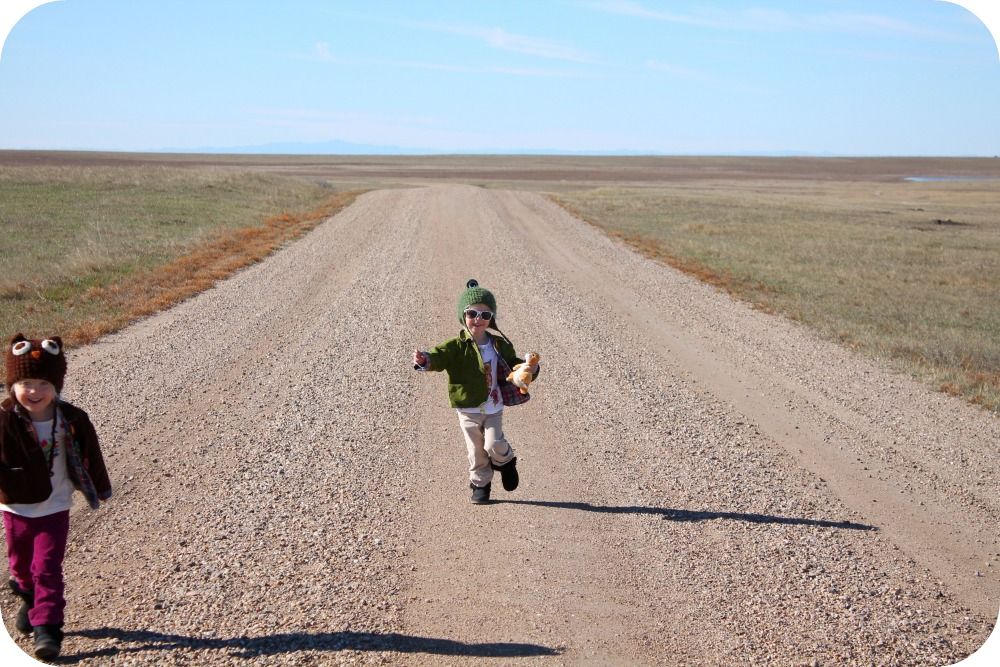 We saw a couple of big horned sheep, at one of our stops.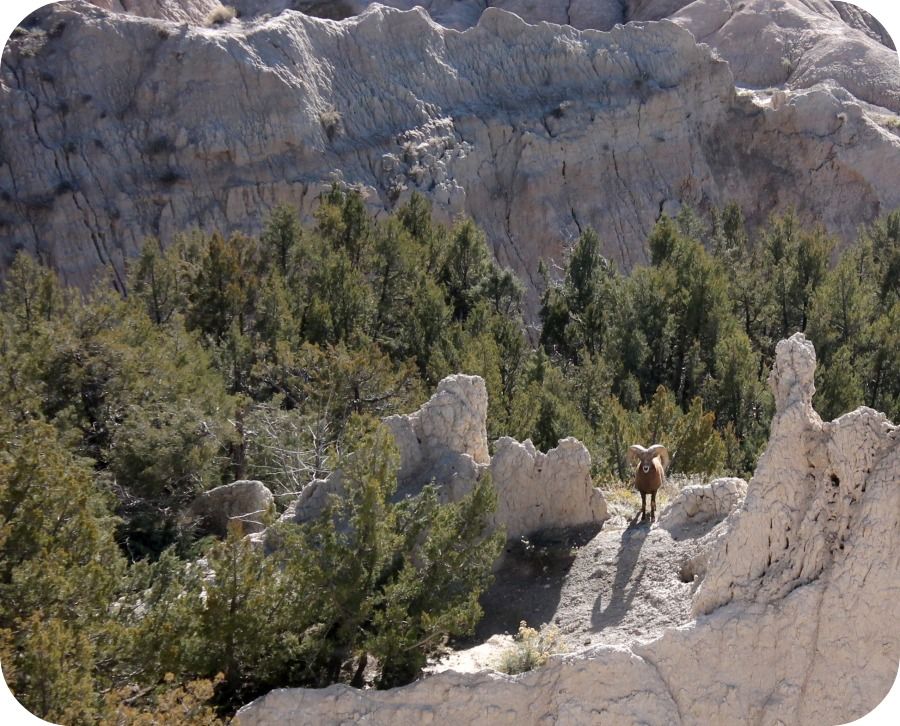 And we stopped for a couple pictures at this crazy, alien-looking part of the the landscape. This is just an iPhone picture, and I did not edit it for exposure or color. That's what it actually looked like!
We were 100% unprepared for any kind of hiking in the Badlands, but we still explored a bit at this stop. Even my inappropriate footwear (ballet flats) and the "beware of rattlesnakes" sign didn't keep us from adventuring at Castle Trail.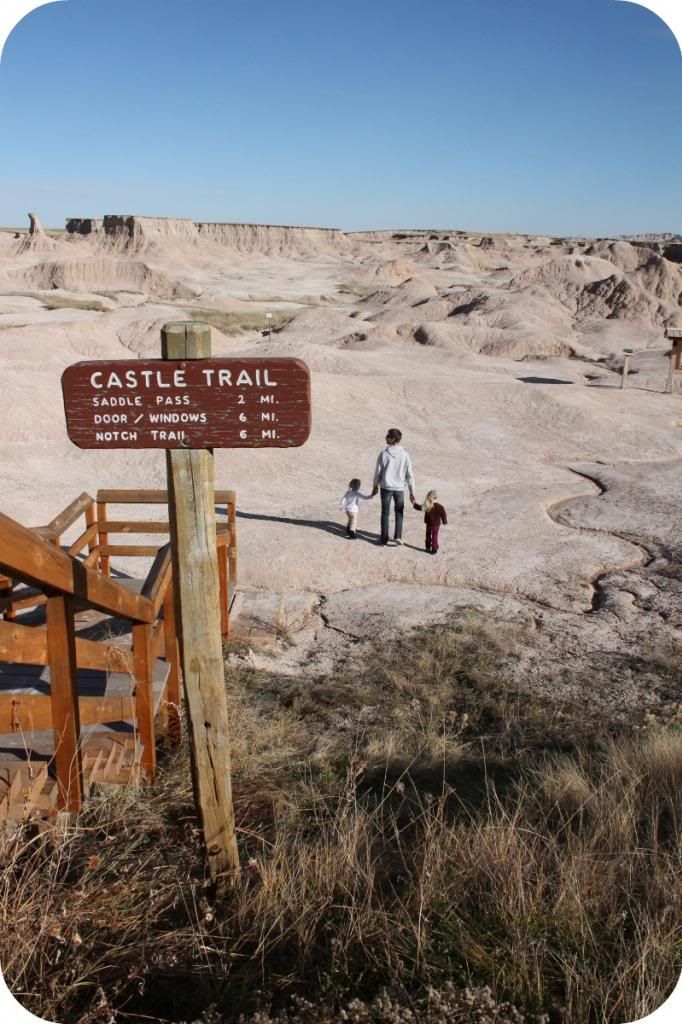 Across the road from Castle Trail, we checked out fossils of prehistoric animals and some recent antelope tracks.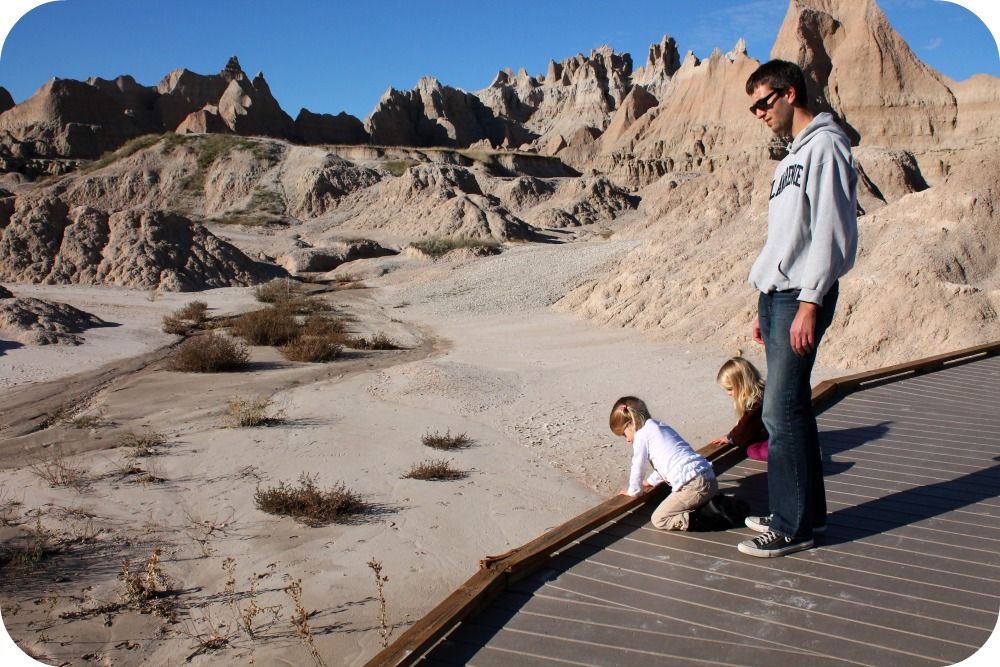 It was late on Saturday, when we finally arrived in Sioux Falls. We ate a quick supper in the hotel, then crashed. Sunday morning we explored the falls that give the city it's name.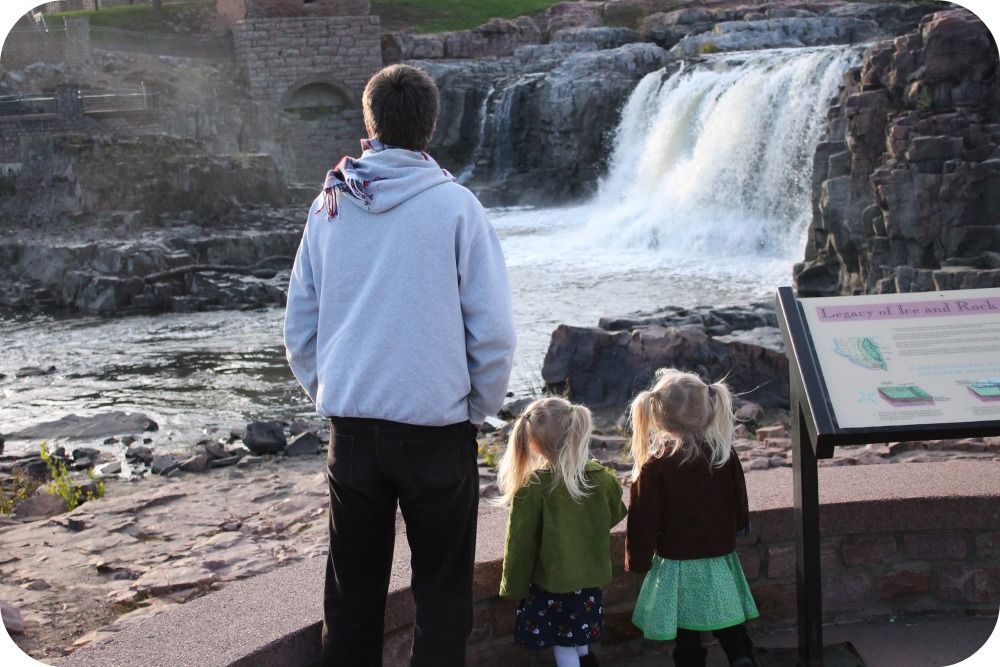 There is a beautiful park surrounding the falls. There are lookout spots, a little foot bridge, and lots of paths to walk or jog on. We could have spent the whole day there, except for the part where we were cold and we needed to get home to Wisconsin. The long drive home was fairly uneventful. We crossed Minnesota, and stopped to eat a really great, vegan lunch at Galactic Pizza. It was the second time we've eaten there, and it was wonderful both times.
When we were back in our home state, we stopped at Willow River State Park. There was a steep trek down to see the waterfall there. On our way, a crabby woman made an offhand comment, about how it was going to be a long walk back up the hill, carrying the girls. Clarissa and Veronica stuck it to her. They walked all the way back up on their own. Ha!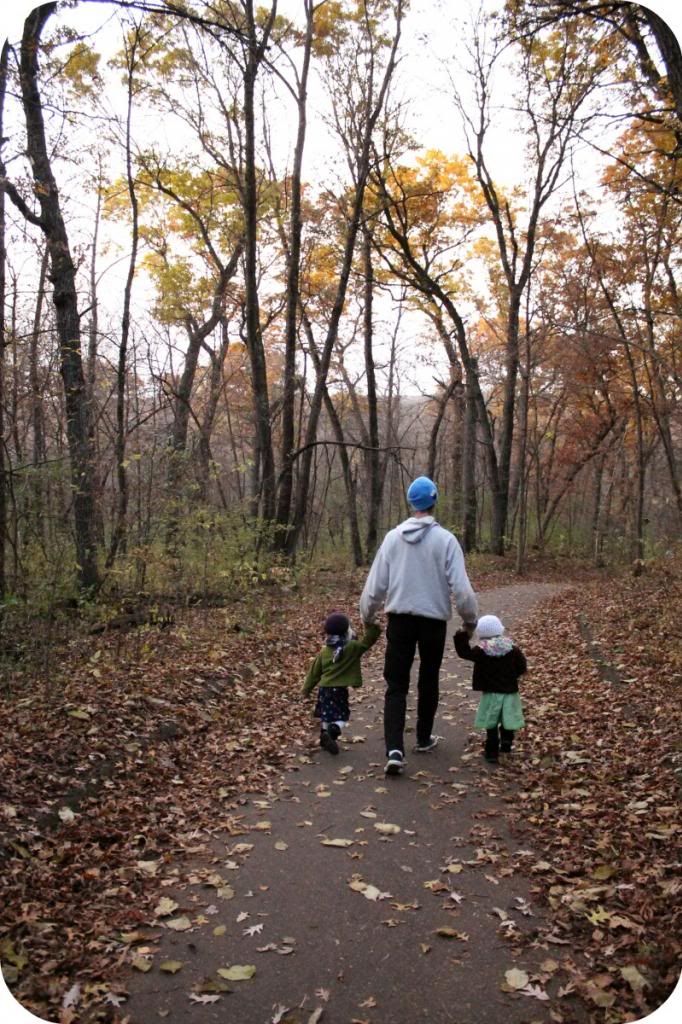 The hike down and back up was absolutely worth it. The falls were beautiful. If the sun hadn't been setting, we would have stayed longer to explore. We kept our visit to the park short and sweet, but I have a hunch we'll be back to visit again.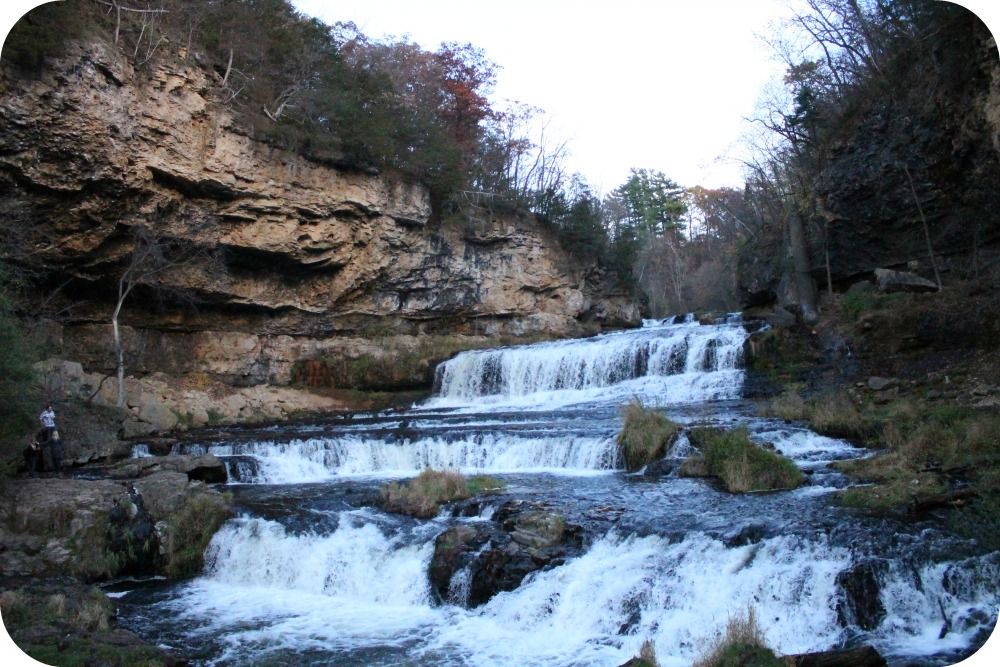 At the bottom of the falls, we took pictures of our exhausted and distracted kids.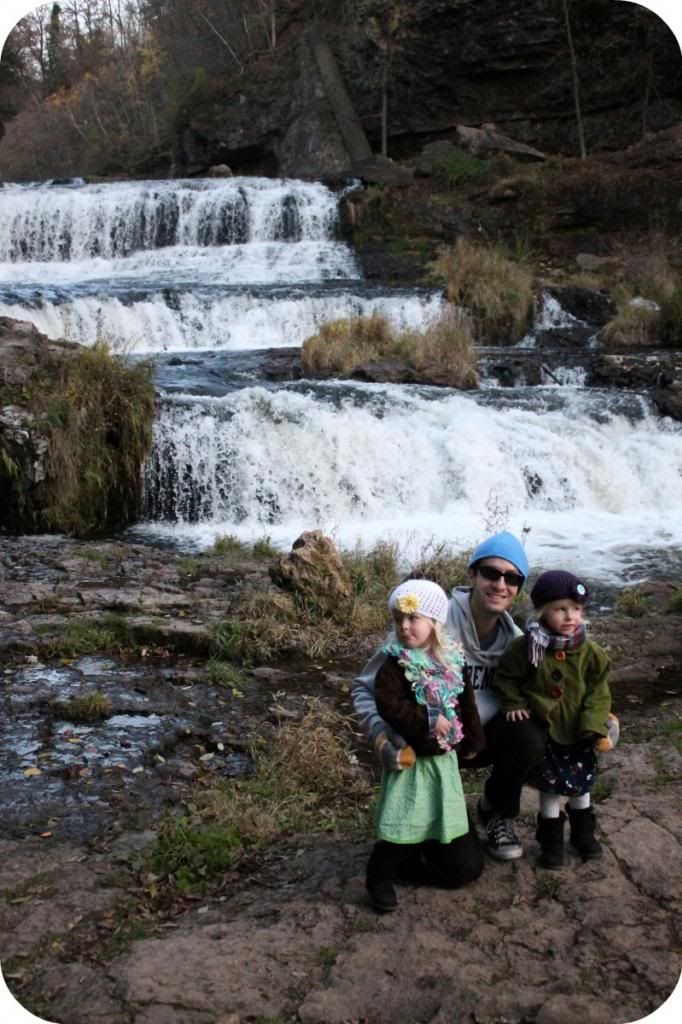 Then we took a few minutes to view it from the top of the hill.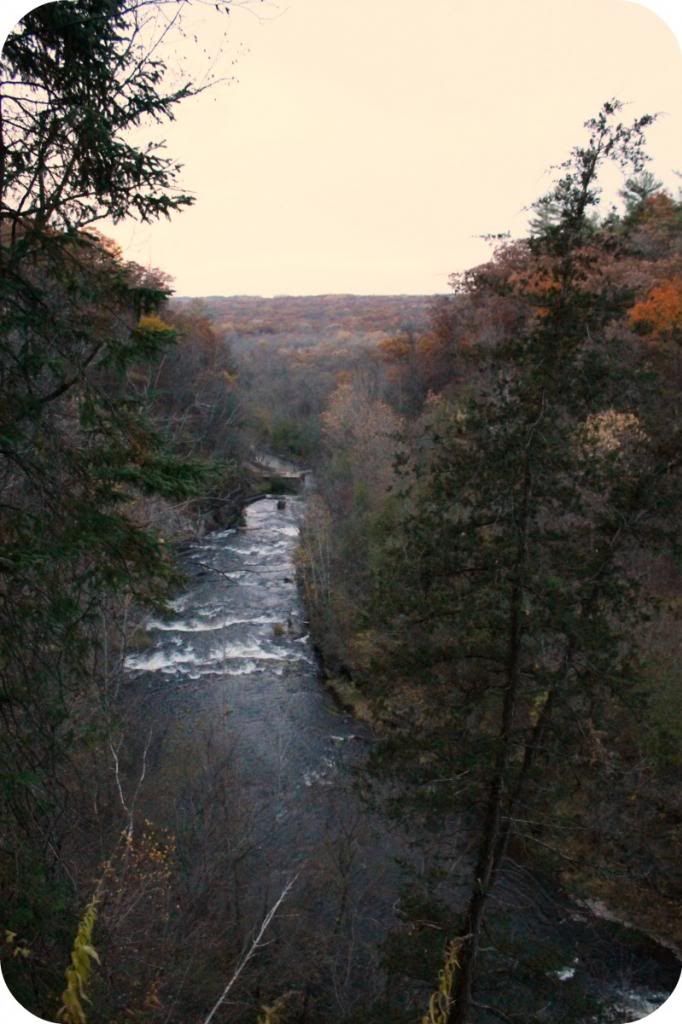 Clarissa flashed her beautiful, blue eyes.
Veronica jumped around and acted silly.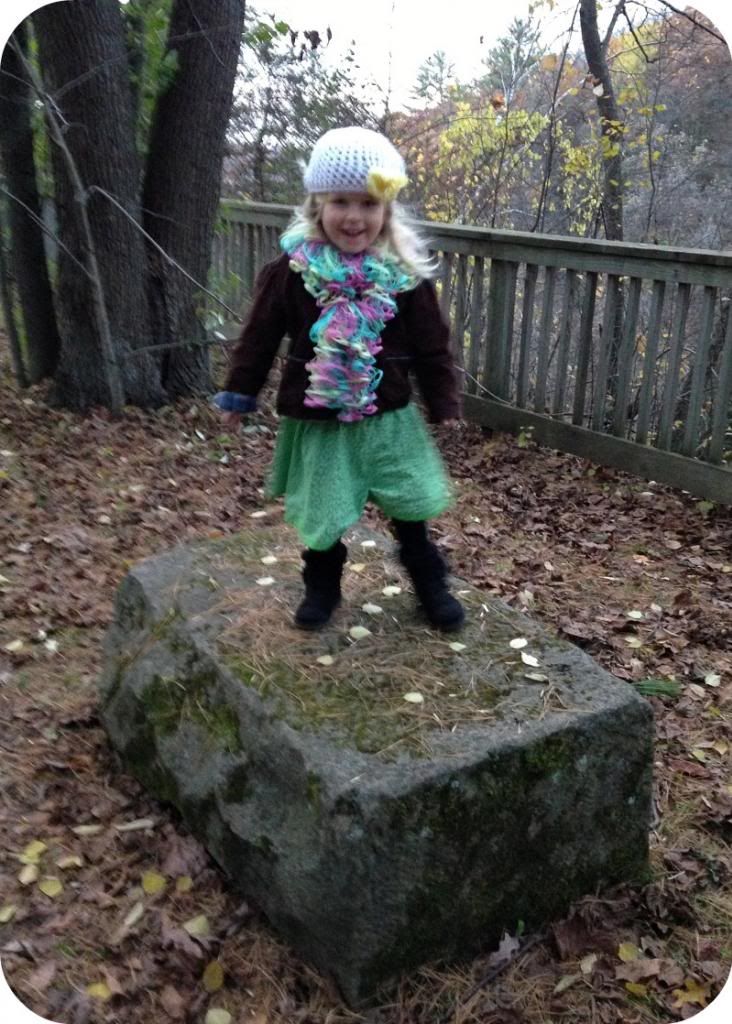 And then we drove the last few hours of our trip. When we were finally home, we were exhausted, but satisfied. It was a great trip. I can't wait for our next travel adventure!