What's your favorite kind of pie? Without a doubt, my favorite is pumpkin (ask me the same question next summer, and I assure you I'll answer with cherry). I love the cool, smooth filling in contrast to the warm spices. It's the best.
After going vegan, it took three or four years for me to figure out a good vegan pumpkin pie recipe. There were plenty of recipes out there, but they differed too much from the Libby's pumpkin pie recipe. I grew up with Libby's recipe. It is what I want, when I take a bite of pumpkin pie. I just wanted to skip the eggs and evaporated milk.
I tried reducing soymilk, to replicate the evaporated milk. It didn't work. I tried flax eggs in place of the eggs. That was a big mistake. The texture was awful. There were versions that were gummy and others that never set, and were a runny mess.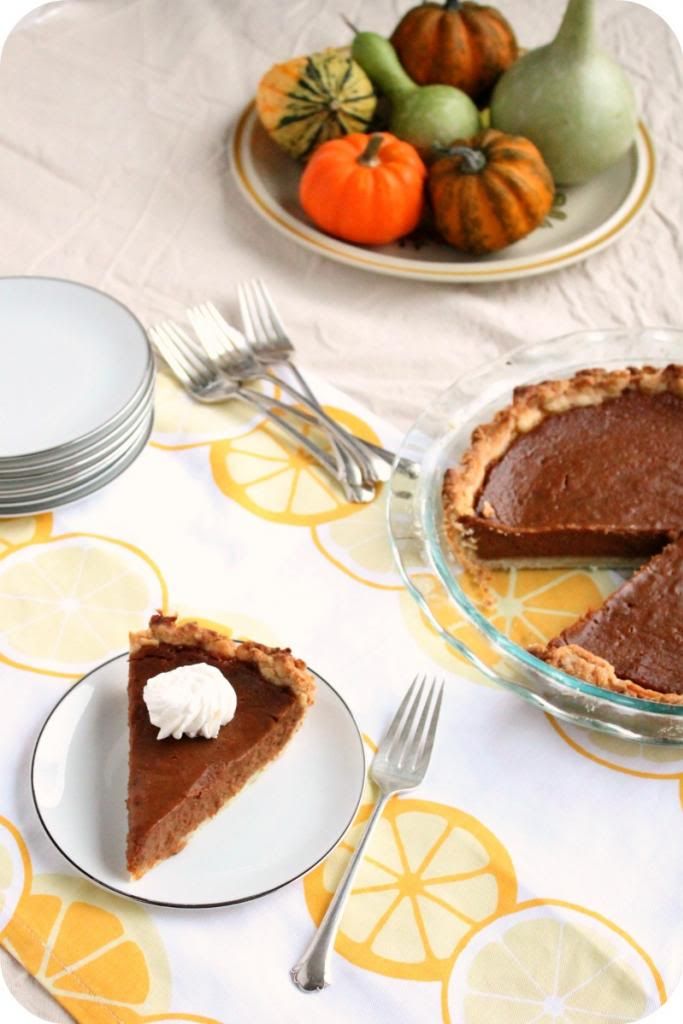 Finally vegan coffee creamer became available here in Green Bay. I had learned that whipped, silken tofu was the best egg replacer for smooth, creamy desserts. And this year I mastered the spices. For some reason, when using creamer and tofu, rather than eggs and evaporated milk, the pie needs extra spices to taste perfect. And perfect it is.
Classic Pumpkin Pie
2013-11-21 12:36:12
Ingredients
1 unbaked 9 inch deep dish pie crust*
1 1/2 cups pumpkin puree, divided
1 tbsp white flour
6 tbsp whipped, silken tofu**
3/4 cup sugar
2 tsp cinnamon
3/4 tsp ginger
1/2 tsp cloves
1/2 tsp kosher salt
1 cup soy or coconut milk creamer (plain or vanilla)
Instructions
1. Preheat oven to 400 degrees.***
2. In a large mixing bowl, whisk 1/2 cup of the pumpkin with the flour, until completely smooth.
3. Whisk in all the remaining ingredients, except the creamer, until the everything is evenly incorporated.
4. Beat in the creamer. Pour the filling into the pie crust.
5. Bake at 400 degrees for 25 minutes. Reduce the heat to 325 degrees and bake an additional 45 minutes. When the pie is done, it will still be jiggly and soft in the middle. It will set as it cools. Cool, at room temperature, for about 90 minutes. Place in the refrigerator and chill at least 4 hours, prior to cutting.
Notes
*I used the America's Test Kitchen Fool Proof Pie Dough recipe. My crust is still very rustic (i.e. an ugly mess), but it was the best pie crust I've ever made. You can find the recipe here: http://www.americastestkitchen.com/recipes/3919-foolproof-pie-dough
**Drain the liquid from a box of firm or extra-firm, silken tofu. Place in a blender or small food processor. Blend until completely smooth. If you have trouble getting all the lumps broken down, press the tofu through a fine sieve.
***This is the temperature for a glass pie plate. If you are baking in another material, start at 425 degrees, but still use 325, when you reduce the heat during baking.
Adapted from Libby's Famous Pumpkin Pie
http://www.veganmotherhubbard.net/