I asked Clarissa, "Would you like to try some cauliflower?"
Clarissa answered, "No. I don't like it."
I said, "It's okay, if you don't like it. Please just try a small piece."
I gave her a tiny floret. She picked it up, and licked it. Then it was gone, and she was asking for more. Once Veronica knew Clarissa liked it, she was asking for cauliflower, too. And then the side dish I planned to serve for dinner was half gone. Veronica even ate a couple of the spiced, baked orange slices. When I cut the girls off, they asked if they could have more for supper.
Roasted cauliflower is already a favorite around here. The reason I pushed Clarissa to try it, is that she happily eats it most of the time. I'm pretty sure that this new version will become a staple for us this winter. It's just too delicious not to make it again. And make it often.
Honestly, I thought I was done posting recipes for Thanksgiving. I posted five recipes last week, then two Thanksgiving recipe round ups over the weekend. This recipe is just too good to hold, until after the holiday. It's simple to put together. You could even bake the cauliflower today or tomorrow, and just warm it in the oven or microwave on Thanksgiving Day. Even though the flavors in the dish aren't typical for Thanksgiving, this roasted cauliflower will nicely complement all those traditional, seasonal flavors that will be on the table. I have no doubt that it will be a standout among all the people you share the holiday with.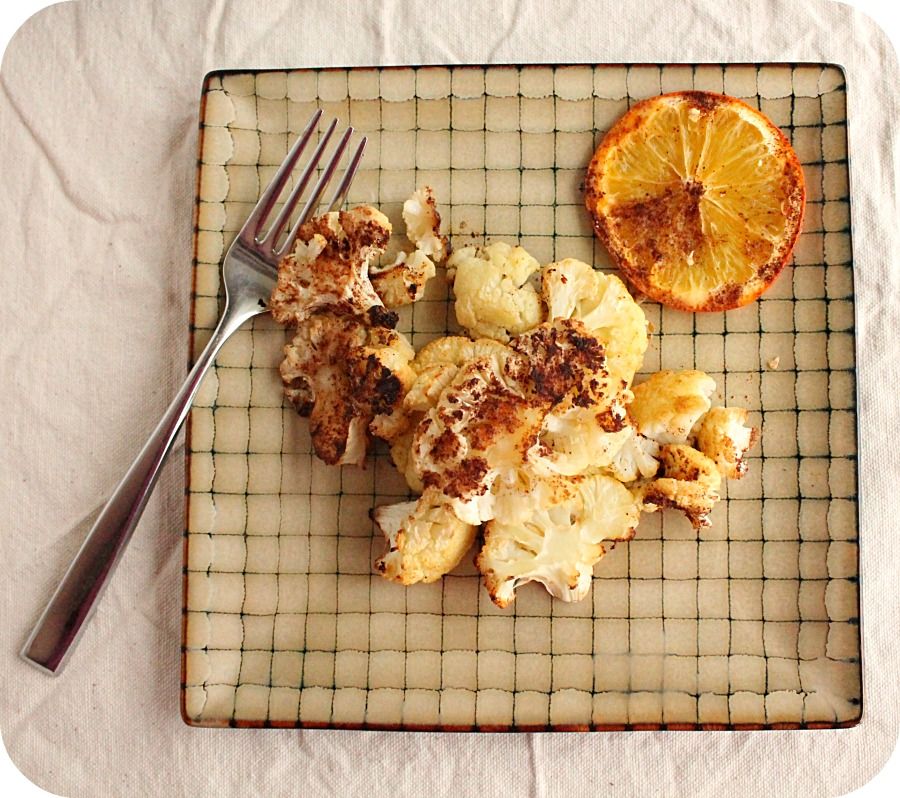 Orange and Spice Roasted Cauliflower
2013-11-25 14:05:22
Ingredients
1 large orange
1 large head of cauliflower
1 tbsp olive oil
1 tsp kosher salt
1/2 tsp chili powder
1/4 tsp ground cumin
1/4 tsp ground allspice
Instructions
1. Preheat oven to 400 degrees. Line a baking sheet with parchment paper, and set aside.
2. Wash and dry the orange. Then cut it into1/8-1/4 inch thick slices. Spread the orange slices on the baking sheet, in a single layer.
3. Cut the core out of the cauliflower and rinse it well. Cut the head of cauliflower into 1/2-3/4 inch thick slices. Place the slices, and any florets that have broken loose, over the orange slices, on the baking sheet.
4. Drizzle the olive oil over the cauliflower.
5. In a small bowl, stir the salt and spices together. Sprinkle half the spices over the cauliflower. Set the rest aside.
6. Bake the cauliflower for 20 minutes. Remove from the oven. Use a tongs to carefully turn over the pieces of cauli. Sprinkle with the remaining spices. Return to the oven, and roast for another 20-25 minutes, or until the vegetable is very tender and browned as much as you like.
7. Serve immediately. Or refrigerate, with the orange slices. Reheat in the microwave, or covered in the oven.
http://www.veganmotherhubbard.net/