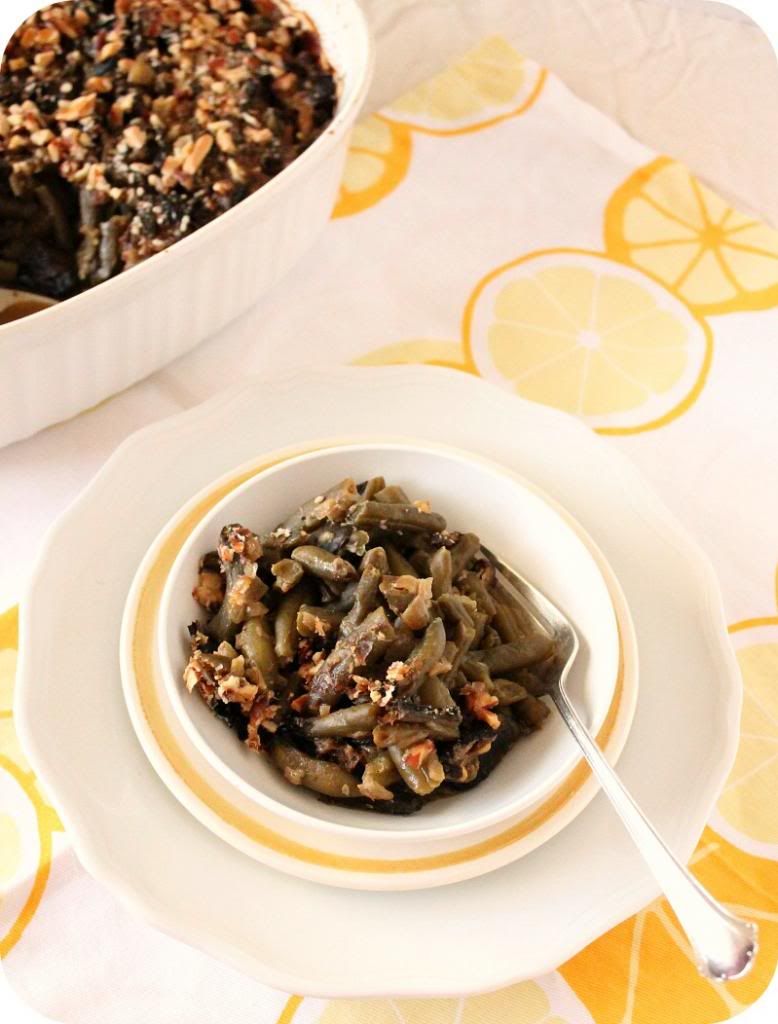 I'm not excited about this post. I love green bean casserole, and this recipe for sure. The trouble is that I over-baked the casserole. I checked the oven and it was perfect. I noted the time, then got distracted. Almost half an hour later, I remembered that the green beans were still in the oven. Believe it or not, I started this recipe with bright green beans. In the pictures, the beans look canned. That makes me sad. I really want my lighter, fresher version of classic green bean casserole to be part of your Thanksgiving. I promise if you make the recipe, yours will be beautiful. Promise.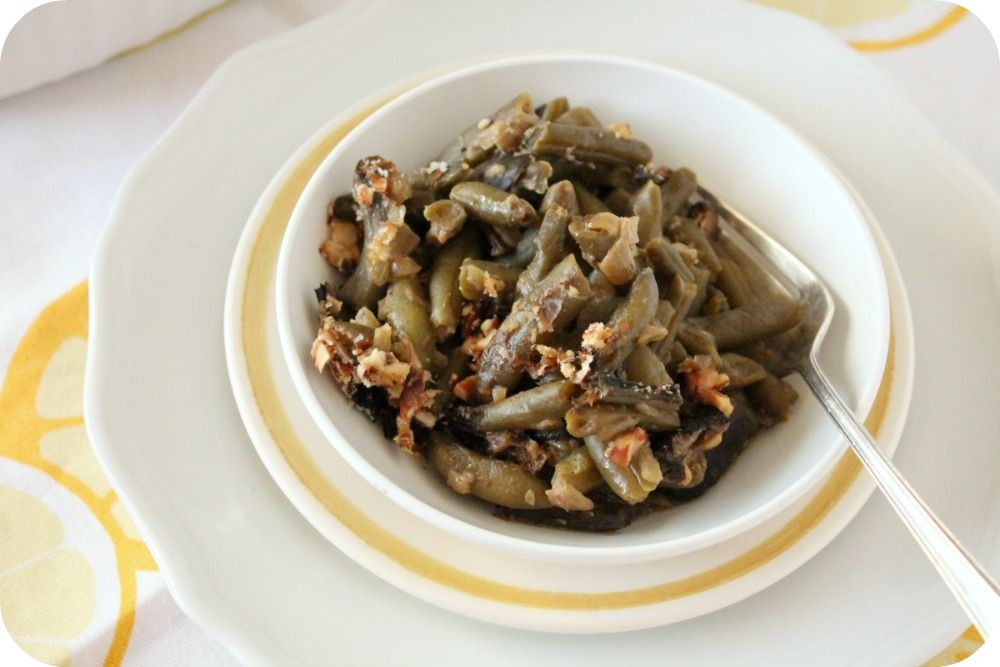 Green Bean Casserole
2013-11-12 08:11:35
Ingredients
2 ounces dried mushrooms*
2 cups boiling water
1 tbsp vegan butter
1 small onion, finely diced (1/2-3/4 cup)
2 tbsp white flour
1 cup plain, unsweetened non-dairy milk
1 tbsp soy sauce
1/4 cup nutritional yeast
salt and pepper to taste
1 1/2 pounds fresh or frozen, cut green beans
1/2 cup chopped almonds
Instructions
1. Rinse and drain the dried mushrooms in cold water. Place in a small mixing bowl, and cover with the boiling water. Set aside for 10 minutes, to let the mushrooms soften.
2. Drain the softened mushrooms, and reserve the soaking liquid. Roughly chop the mushrooms and set aside.
3. Place a large skillet over medium heat and melt the butter. Add the onion and a pinch of salt. Saute until the onions soften, about 5 minutes. Reduce heat to medium-low, and continue to saute slowly, until the mushrooms brown.
4. Add the flour to the pan, with the onions. Use a whisk to mix the flour, butter, and onions, until the butter is all absorbed by the flour.
5. Add about 1/2 cup of the mushroom liquid to the pan, and vigorously whisk, to remove any lumps of flour.
6. Whisk in the remaining mushroom liquid, milk, soy sauce and nutritional yeast. Bring to a simmer, then remove from the heat.
7. Taste the sauce. Add salt and pepper to taste.
8. Place green beans in a greased 1 1/2-2 quart casserole dish. Stir in the mushrooms and sauce. Sprinkle with the almonds, and cover with foil.
9. Bake in a 350 degree oven, for 25 minutes. Remove the foil and bake an additional 5 minutes, so the nuts get crunchy.
Notes
*I used a wild mushroom mix that contained bolete, oyster, porcini, shiitake, and woodear.
http://www.veganmotherhubbard.net/