It's probably pretty obvious that, as a vegan, I wish nobody would eat turkey on Thanksgiving. I tend not to talk about the political/animal rights side of veganism on this blog, but just this once I want to mention that it seems pretty sad to give thanks and celebrate all we have, by killing and cooking a bird. Not to mention that I recall eating turkey, many years ago. My mom is an excellent cook, but even she couldn't make turkey into anything particularly amazing to eat. I've always preferred all the many yummy side dishes on the Thanksgiving table.
So how does a person go about wowing his or her guests on Thanksgiving Day, without the bird? There are some delicious vegan roasts out there. I thoroughly enjoy both Tofurky Roast and Field Roast's Celebration Roast. You don't have to spend the money on one of those, to have a beautiful centerpiece for your Thanksgiving feast, though. With tofu, apple cider, and some seasonings you can make this beautiful cider glazed tofu that your friend and family won't be able to resist.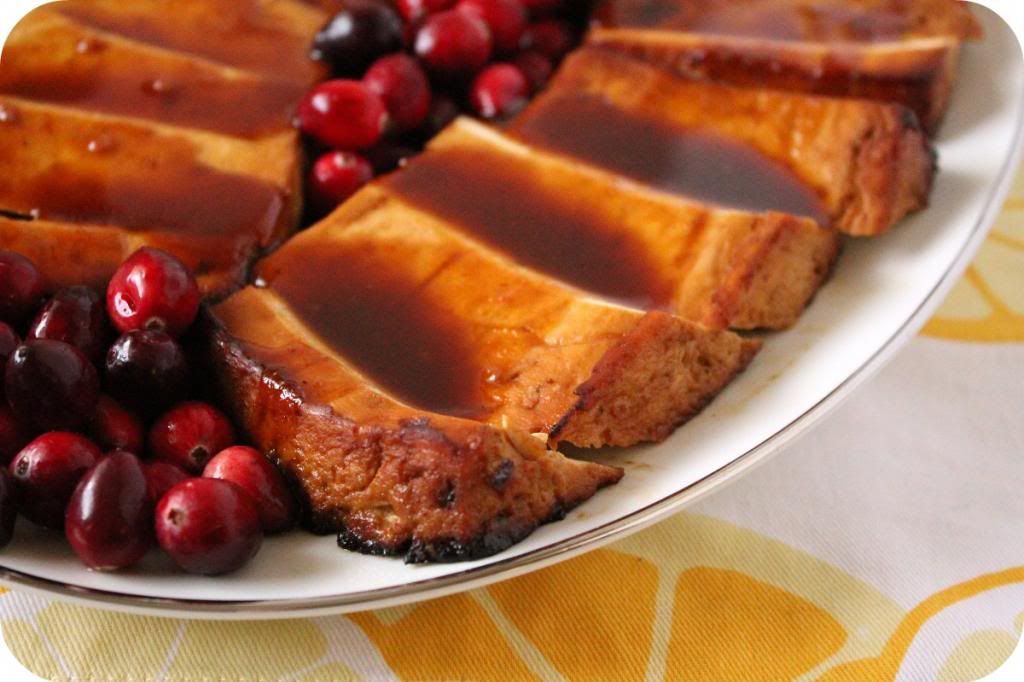 The greatest part is that the tofu can be marinated and baked a few days in advance, then warmed in a slow cooker, the oven, or even the microwave on Thanksgiving Day. The glaze can be made ahead, as well. Easy. Convenient. Delicious.
Apple Cider Glazed Tofu
2013-11-14 13:13:59
Ingredients
2 lb firm or extra firm tofu
Marinade
1 tbsp vegetable broth concentrate*
2 tbsp Braggs liquid aminos
3 tbsp nutritional yeast
1 tsp dry mustard
1/4 tsp black pepper
2 cups apple cider
Glaze
3 cups cider
1/2 cup of the marinade
1/4 cup white wine**
2 tbsp apple butter
Instructions
1. Drain the tofu and press it for 30 minutes. Then cut the tofu 1/2 inch thick pieces. Place the tofu in a single layer in a shallow dish.
2. Whisk the marinade ingredients together, and pour over the tofu.
3. Refrigerate the tofu at least 12 hours, or up to 3 days in advance.
4. To bake, transfer the tofu to a baking dish, keeping it in a single layer, without the marinade. Set 1/2 cup of the marinade aside. Bake for 90 minutes at 325 degrees, basting with the remaining marinade every 20-30 minutes.
5. Make the glaze by combining the reserved 1/2 cup of marinade, the cider, wine, and apple butter in a skillet or sauce pan.
6. Simmer over medium heat, until reduced to about 3/4 cup volume. Stir often, to prevent scorching.
7. To serve, arrange the baked tofu onto a platter. Drizzle with the glaze.
Notes
*I use Better than Bouillon organic vegetable broth concentrate. I think it provides the best flavor. Do not sub vegetable broth. You want the concentrate, or the marinade will be too watered down to really flavor the tofu.
**I used a semi-sweet riesling.
http://www.veganmotherhubbard.net/