Yesterday we were in the car, and Veronica asked if we could eat supper outside. I told her we couldn't, because it was going to be dark out, by the time dinner would be ready. I explained that now that it was fall, days were getting shorter.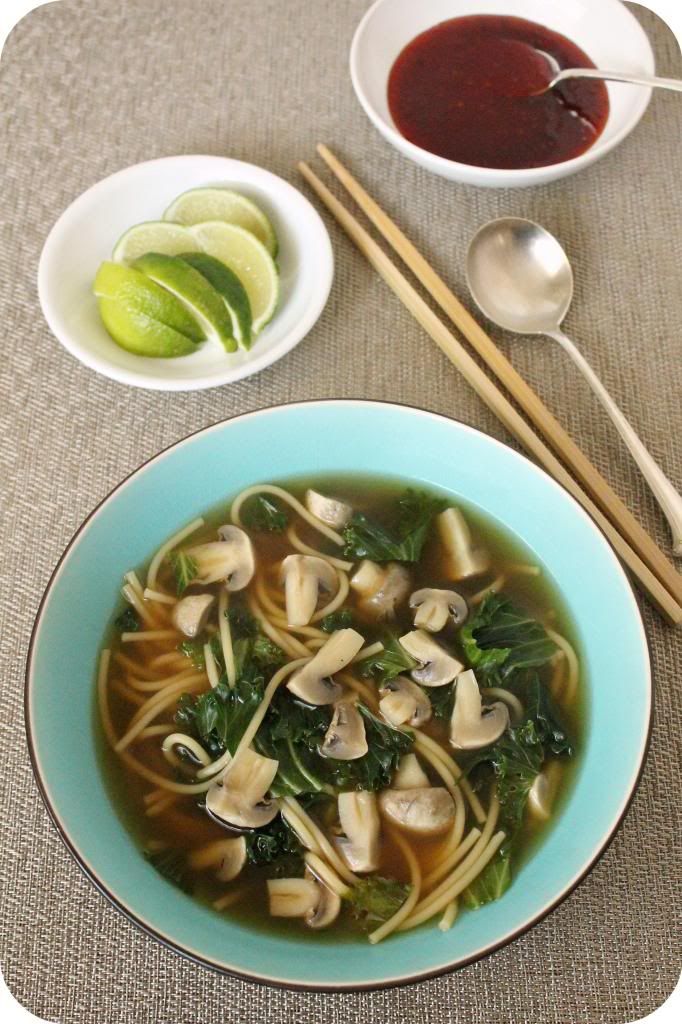 Veronica's follow up was, "will it be dark in the morning, too?" I told her yes. I explained how the angle of the earth to the sun changes with the seasons, and the days are shorter in fall and winter; longer in spring and summer. Then I told the girls about how there are places farther north that have periods of 24 hour darkness and 24 hour sun, as the seasons change. I gave examples: parts of Alaska, parts of Canada, and the Scandinavian countries.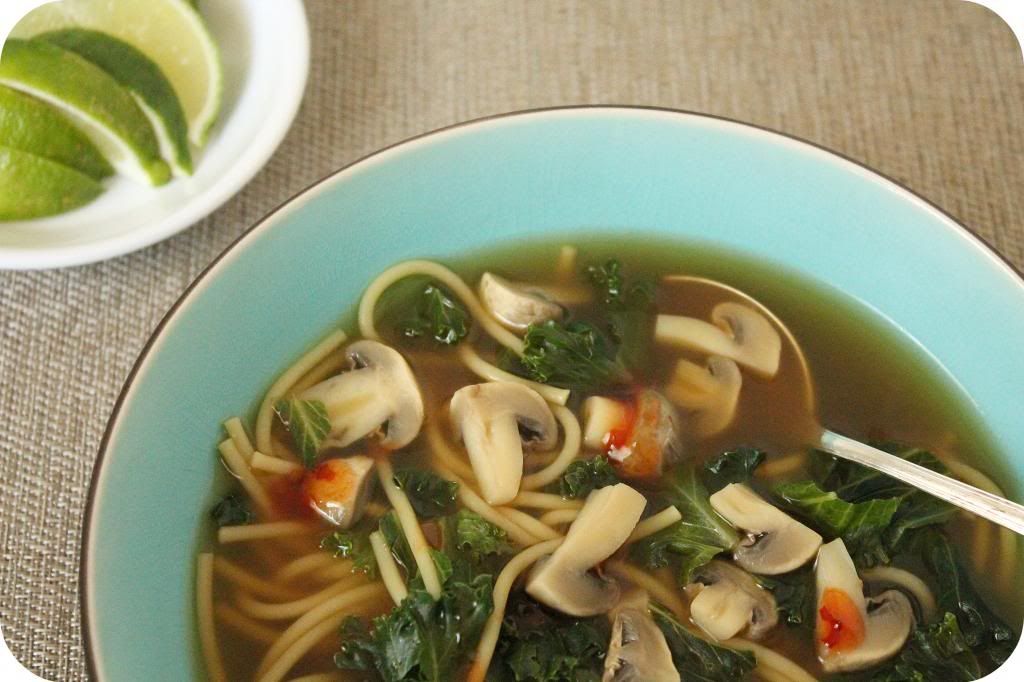 I had no idea that my daughters had ever heard of Canada before, but apparently they had. After I mentioned the country, Clarissa chimed in with, "the mooses bite when it's Canada." Veronica added, "there's a pack of wolves that bite; and who knows what has a sharp tooth that bites." I guess we need to work on their perception of the lovely country of Canada. And maybe their understanding of, and the grammar related to, moose.
That story has nothing to do with this recipe, other than that both the story and the soup left me happy and satisfied.
Vegan Mushroom, Kale, and Lemongrass Soup
2013-09-30 20:17:52
This is a simple, light, and quick soup. Consider adding fresh sweet, lime, or Thai basil as another garnish. Make the recipe even quicker to make, by using rice noodles, rather than spaghetti. Rice noodles cook in about half the time (or less). Also, a piece of fresh ginger would be a welcome addition to the broth.
Ingredients
2 quarts vegetable broth*
1 handful 3-inch pieces of lemongrass
3 cloves garlic, peeled and crushed
3-2 inch pieces of the green part of a leek
1 pound white or cremini mushrooms, cleaned and quartered
1/2 pound spaghetti noodles, broken into thirds
3-4 cups chopped kale
1-2 tbsp tamari or soy sauce
lime wedges
Thai chili sauce**
Instructions
1. In a 4 quart soup pot, bring the broth to a boil.
2. Use the back side of a chef's knife to bruise the lemongrass.
3. Add the lemongrass, garlic, and leek to the simmering broth. Continue to simmer for 20 minutes.
4. Strain the lemongrass, garlic, and leek from the broth.
5. Add the mushrooms, noodles, and two cups of water. Bring to a boil, and simmer for about 15 minutes, or until the noodles are tender.
6. Stir in the kale, and simmer another 3-5 minutes, or until the kale is wilted.
7. Season with tamari, to taste.
8. Garnish with a squeeze of lime and chili sauce.
Notes
*I've tried many different vegetable broths and vegetable bouillon brands, and prefer Better than Bouillon.
**Always check the label, before buying chili sauce or chili paste. Many brands contain fish or fish sauce.
http://www.veganmotherhubbard.net/