Steve and I were on a long drive a couple weeks ago. Clarissa and Veronica were sound asleep in their carseats. We were listening to a food podcast (wish I could remember which one), and I was inspired. By the time the episode was over, I had made a list on my phone, of at least twenty recipe ideas.
One of those ideas was to make spring rolls. Mine have mostly cooked vegetables in them, because raw veg and my braces are often incompatible (not that the kale I used in the recipe was so orthodontia-friendly). I had been craving sushi, so I threw in some seaweed, too. The rolls themselves are not really seasoned. The bright and earthy flavors of all the different vegetables really come through. And a bit of sharpness and salt is brought in, through the dipping sauce.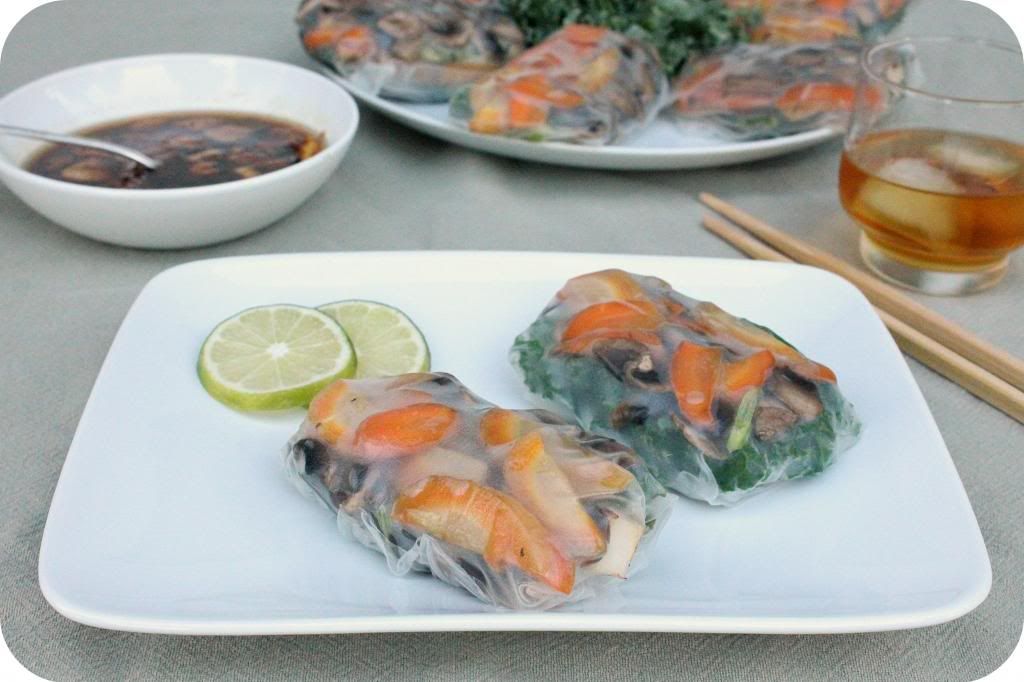 These spring rolls are toddler approved, even with raw kale and salty seaweed. Of course, my children are far from typical. They were eating the large pieces of raw garlic and raw ginger, right out of the dipping sauce. What a pair of silly goofs!
I always want you to make my recipes your own. Some ideas for changing up these rolls:
sub any greens for the kale; try spinach, arugula, cabbage, or even lettuce
add herbs like cilantro, Thai basil, or mint
mince or grate the garlic and ginger, then whisk in a bit of peanut butter to have a thicker, richer dipping sauce
use different mushrooms like shiitake, oyster, or enoki; those can all be added raw, so you can skip part of the cooking
add other favorite vegetables; consider avocado, fresh tomatoes, zucchini, or grilled eggplant
spice up the dish by adding julienned hot peppers to the rolls or some crushed red pepper flakes to the sauce
Veg Spring Rolls with Sesame Ginger Dipping Sauce
2013-09-03 14:56:57
Spring Rolls
1 pound mushrooms
3 medium-large carrots
3 green onions
2 tbsp olive oil, divided
1 handful of dried, shredded seaweed (wakame or other)
1 lb firm or extra firm tofu
1 bunch of kale
16 spring roll wrappers
Dipping Sauce
1/3 cup tamari or soy sauce
1 tsp lime juice
1 tbsp rice vinegar
1-2 tsp sesame oil
2 tsp liquid sweetener (brown rice syrup, agave, maple syrup, etc)
2 tbsp roughly chopped ginger
1 clove of garlic, sliced
Instructions
1. Clean the mushrooms. Halve them, then slice thinly.
2. Peel or scrub the carrots. Halve them lengthwise, then slice thinly, on the bias.
3. Slice the green onions thinly, on the bias.
4. Warm 1 tablespoon of oil, over medium-high heat, in a large skillet (10-12 inches).
5. Add the mushrooms to the skillet and saute, stirring often, until they begin to release their moisture. Transfer to a plate to cool.
6. Add another tablespoon of oil and the carrots to the pan and continue the saute, just until the carrots begin to get tender. Transfer the carrots to another plate to cool.
7. Saute the onion in the residual oil, just until softened. Transfer to a plate to cool.
8. Place the seaweed in a colander and rinse. Then place in a medium sized mixing bowl. Cover with cool water and set aside to soften, about 10 minutes. Drain.
9. Drain the tofu, and cut it into long sticks, about 1/2 x 1/2 inch.
10. Place the pieces of tofu on a non-stick pan or griddle, over medium-high heat. Sprinkle with salt. Cook until the first side is browned. Turn to cook until the next side is browned. Continue until the tofu is cooked on all sides. Set aside, to cool.
11. Remove the center stems from the kale, wash and spin dry. Cut it to create thin shreds.
12. Create an organized workspace, with each of the ingredients at hand. Pour a cup or so of cool water on a large plate or platter (with a raised edge). A cake or broiler pan works, too. Dampen a clean, lint-free kitchen towel and place on your work surface.
13. Submerge one spring roll wrapper in the water, until it is softened. Carefully transfer it to the dampened towel. Add a bit of each of the ingredients to the center of the wrapper. Then fold to close, like you would a burrito. Set on a plate.
14. Repeat the process, until you've filled each of the wrappers. Add more water to the towel as necessary, to keep the wrappers from sticking to your table or countertop.
15. Whisk all the dipping sauce ingredients together, in a small bowl.
16. Serve the spring rolls with the dipping sauce as an appetizer or entree.
If you want a stronger garlic and ginger flavor in the dipping sauce, there are two options
1. Mince or grate the ginger and/or garlic, rather than chopping and slicing.
2. Assemble the sauce, before preparing the spring rolls, which will allow those flavors to strengthen.
http://www.veganmotherhubbard.net/