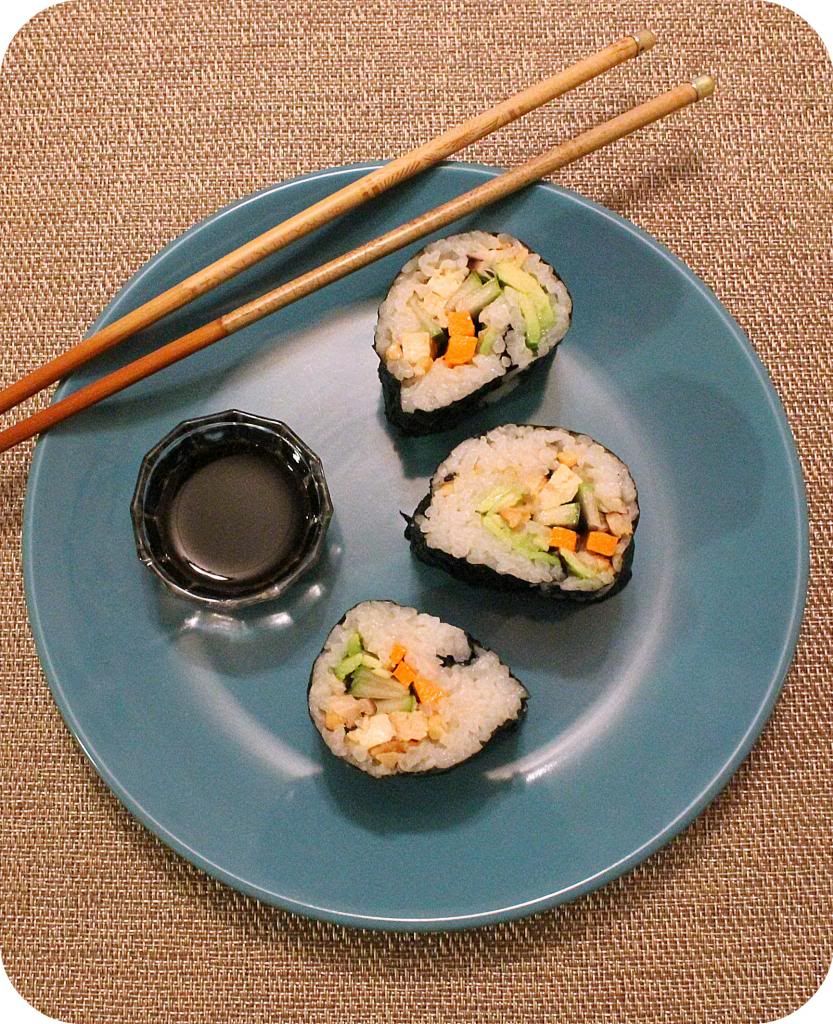 The best sushi joint in Green Bay recently monkeyed with their menu. They used to have five vegan maki rolls, and I loved all of them. Now they have just one vegetarian and two vegan rolls. It makes me so sad.
Steve and I took matters into our own hands, since going out for sushi is no fun anymore. I prepared the rice, tofu, and vegetables. Steve rolled the maki. Clarissa and Veronica sat at the counter, ate sushi, and watched Steve working. It was like a little sushi bar in our own kitchen! The rolls we made were absolutely as delicious as anything I've ever eaten in a restaurant. Not to mention that it was maybe 1/3 the cost of going out.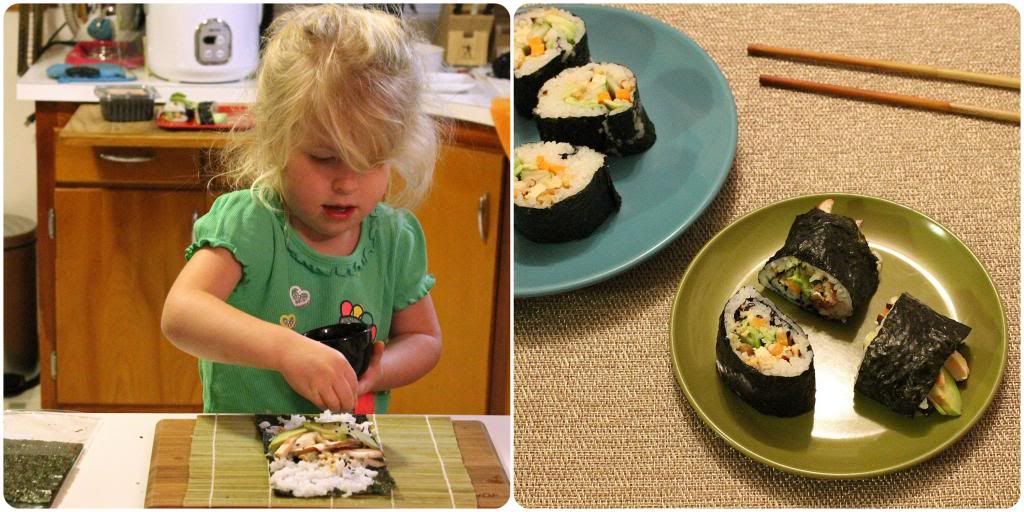 Veronica and Clarissa got into the game, too. Steve has patience like no other person I've ever met. He cut a sheet or nori in half, helped the girls carefully spread the rice, let them add the ingredients on their own, and he rolled the maki with the assistance of the girls' little hands. Each of the gals had three pieces of sushi that they had made themselves. They loved the process and the final product. For me it was a total thrill to see them get so excited about food.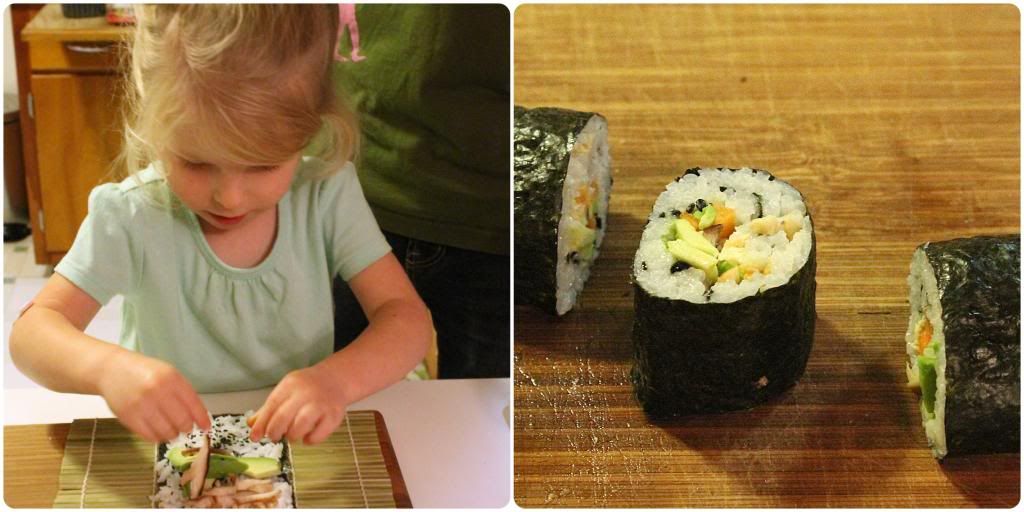 You're probably wondering what made our maki so delicious. I started by using the rice-to-water ratio noted on the bag of rice, for cooking in a rice steamer. Then I followed the ratios in Alton Brown's sushi rice recipe for the vinegar and sugar. I reduced his salt amount by about a third. I also followed his instructions for dressing the rice, after it was steamed.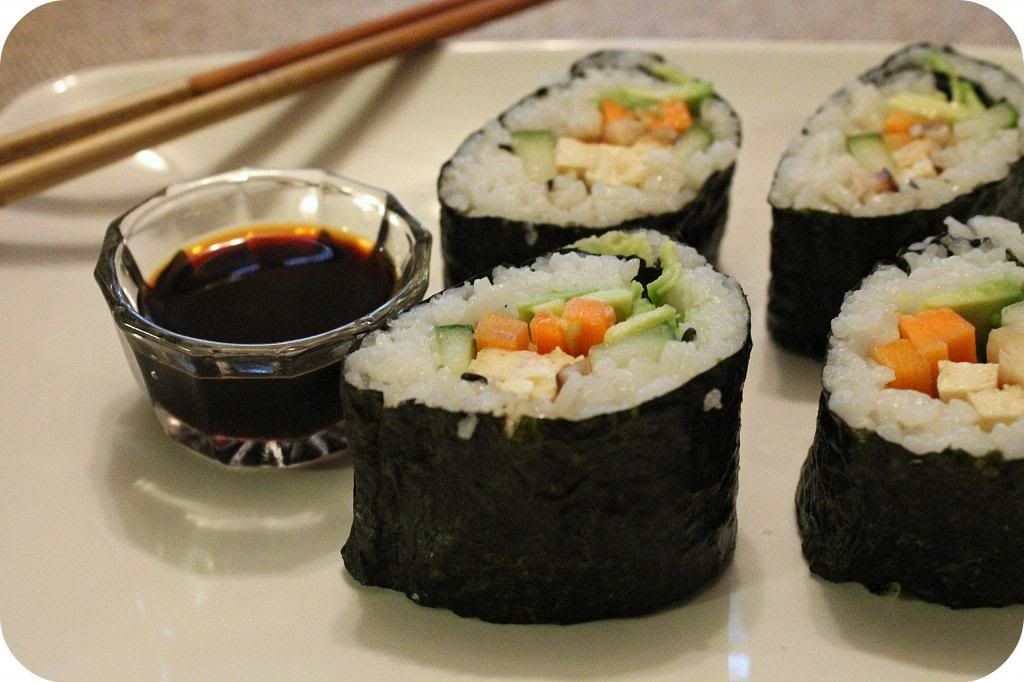 The other ingredients we used were marinated tofu, carrot, cucumber, avocado, shiitake mushrooms, black sesame seeds, and ground cashews. The combination was heavenly.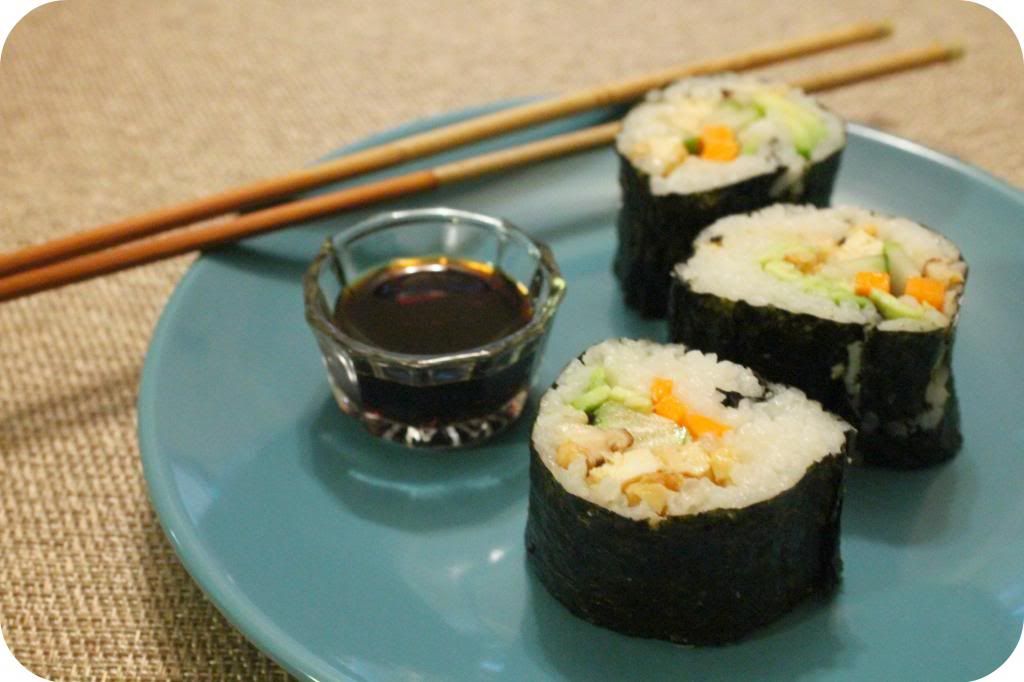 The cool thing about making sushi at home is that you can use any combination of ingredients that you like. You can copy the fillings used in your favorite restaurant maki. You can experiment with new ingredients. It's also a light and almost-no-cook meal, perfect for the heat of summer. I'm not sure why we waited until the end of the season to start making it.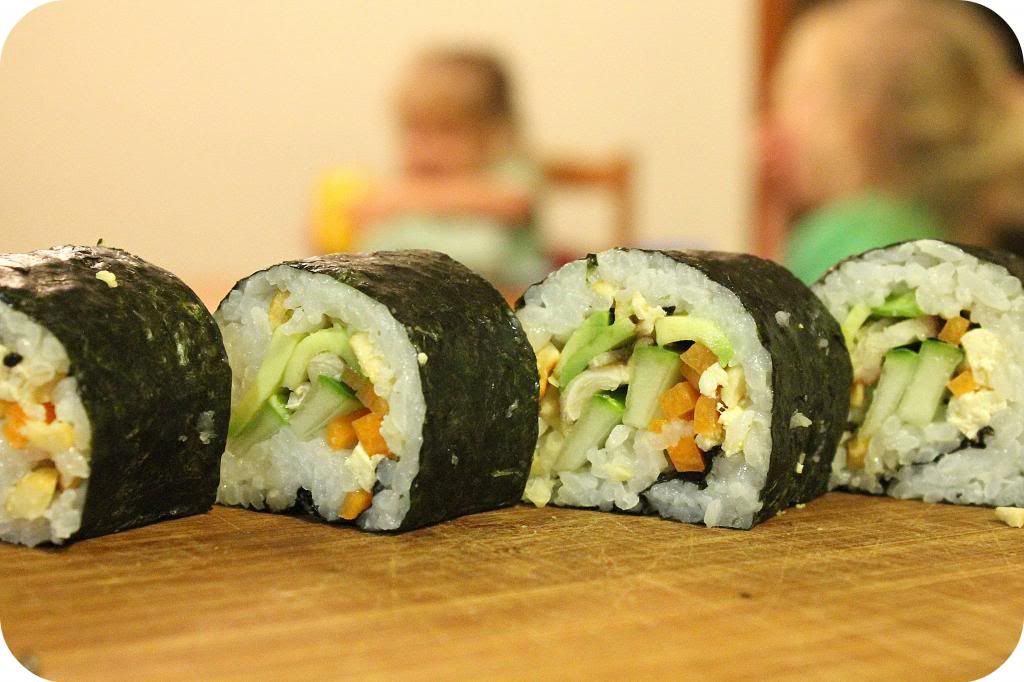 Are you a sushi fan? What are your favorite filling combos for veg maki (let's skip the fish talk on this vegan blog). Have you ever made it yourself? What combination of ingredients would you like to try?
Lastly, before I get to the recipe itself, I have a pro tip for any of you who have a rice maker. If it feels too hot to be making steaming rice in the house, put your rice steamer on your porch or patio to cook. All the heat and steam stays outside. Then you can make a delicious sushi supper, without heating up your kitchen.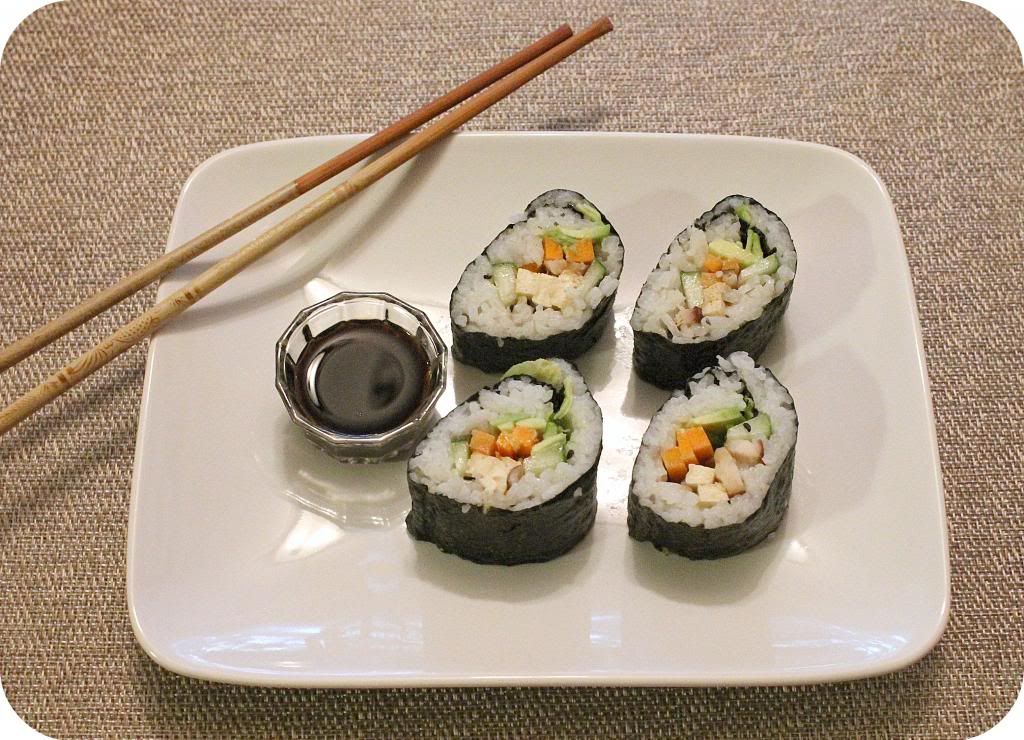 Kohlmann Rolls (Vegan Maki)
2013-09-03 14:24:40
Ingredients
1/2 cup tamari
1/4 cup rice vinegar
2 tsp grated ginger
1 tsp grated garlic
1 tbsp brown sugar
1 pound tofu
4 cups prepared sushi rice*
1 medium-large cucumber
2 medium-large carrots
1/2 pound shiitake mushrooms
1-2 avocados
1/4-1/3 cup ground cashews
2 tbsp black sesame seeds
7 sheets of toasted nori
Instructions
1. In a 1-2 quart, shallow dish, whisk together the tamari, vinegar, ginger, garlic, and sugar.
2. Cut the tofu into 1/4x1/4 inch sticks.
3. Gently place the cut tofu into the dish, with the marinade. Spoon the marinade over the tofu, to coat. Place in the refrigerator for at least two hours, and up to a day or two.
4. Cut the cucumber lengthwise. Scoop out the seeds. Cut into long, thin sticks.
5. Peel the carrots, and trim off the ends. Cut into long, thin matchstick pieces.
6. Gently rinse the mushrooms. Drain them, then spread them on a clean, lint-free towel. Allow them to dry. Then trim the stems and cut into thin pieces.
7. Halve one of the avocados. Remove the pit. Carefully cut off the peel. Cut the avocado into very thin slices. Only prepare one avocado at a time, since it doesn't store well. Cut the second one, if you run out, before you've made all your rolls.
8. Prepare the sushi by placing a sheet of nori on a sushi rolling mat. Spread about 3/4 of a cup of rice on the sheet, being careful not to tear the seaweed.
9. Sprinkle a bit of ground nuts and some sesame seeds over the rice.
10. Place a couple pieces of tofu, cucumber, carrot, mushroom, and avocado in a line in the center of the roll.
11. Roll the sushi tightly, then carefully cut the rolls in about 6 pieces. If you're unsure about rolling the sushi (or spreading the rice and placing the filling ingredients), check out YouTube. There are lots of how-to videos for preparing sushi rolls.
Notes
*Use your favorite recipe, or use Alton Brown's recipe, found at: http://www.foodnetwork.com/recipes/alton-brown/sushi-rice-recipe/index.html
I used his proportions, but reduced the salt by 1/3 or so.
http://www.veganmotherhubbard.net/